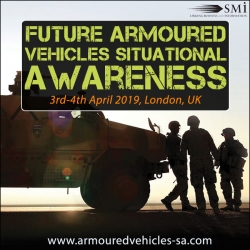 London, United Kingdom, November 20, 2018 --(
PR.com
)-- SMi proudly presents the next annual conference in the sell-out portfolio of Armoured Vehicle events: Future Armoured Vehicles Situational Awareness 2019, taking place on the 3rd and 4th April 2019, in London.
Register for the conference
by 14th December to save £400.
Firmly established as the leading conference for armoured vehicle experts focused on C2, C4i, sensors and optronics, the 2019 event invites not only the programme managers, capability directors and operational commanders from the armed forces, but will also provide a perfect platform for both operational users and industry to share their experiences in the enhancement of situational awareness, information gathering and information sharing.
Delegates who attend the two-day conference will benefit from exclusive Situational Awareness Military briefings from the United Kingdom, The United States, Germany, Norway, Romania and New Zealand, and they will gain the opportunity to meet with leading OEMs and System Integrators.
Future Armoured Vehicles Situational Awareness 2019 will also provide attendees with the opportunity to hear the very latest technological developments from research and industry that are enhancing combat effectiveness and connectivity, including: vetronic architectures, communications, battle management, acoustic sensors, optronics, displays, active protection and defensive aid suites.
Day 1 of the conference will be opened by keynote speakers: Lieutenant Colonel Simon Routledge, SO1 Land Systems, Platforms Division, DSTL, UK MoD and Mr Hans-Josef Maas, Armoured Fighting Vehicles, Vetronics Project Leader, Federal Office of Bundeswehr.
Day 2 will be opened by keynote speakers: Colonel (ret'd) Mike McCarthy, Deputy to the Commanding General, Maneuver Support Center of Excellence, United States Army and Major Warren Brennan, SO2 Communications and Vehicle Systems, British Army.
To register for the conference and download exclusive content, visit www.armouredvehicles-sa.com/prcomp
Sponsorship is now open, should you wish to speak or exhibit at Future Armoured Vehicles Situational Awareness 2019, please contact Justin Predescu on: on +44 (0) 207 827 6130 or email jpredescu@smi-online.co.uk
For delegate enquiries, contact James Hitchen on +44 (0) 20 7827 6054 or email jhitchen@smi-online.co.uk
Future Armoured Vehicles Situational Awareness
3rd-4th April 2019
London, UK
http://www.armouredvehicles-sa.com/prcomp
Sponsors: Microflown Avisa, Observis Oy and Pleora Technologies