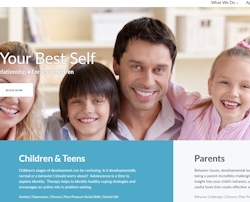 Bellevue, WA, November 29, 2018 --(
PR.com
)-- Bellevue Family Counseling, an experienced provider of child, teen, adult, relationship counseling and parent coaching, announced today the launch of its newly designed website at
www.bellevuecounseling.net
. The completely revamped website features a streamlined design making it easier for visitors to access information on the different counseling services offered as well as to schedule an appointment. The new site also creates the framework to expand its client resource areas.
"We are thrilled to finally bring all our counseling services together under one site versus three. This allows our clients to gain a better understanding of the depth of our practice," says Marlon Familton, lead relationship/marriage therapist and principal at Bellevue Family Counseling. "The new design makes it easy for us to expand our blog as well as add video content on relevant topics. These additions will significantly increase value of what we offer our clients."
Bellevue Family Counseling offers one-to-one counseling services to children, teens, adults, couples and parents. The new website will be updated on a regular basis with articles and videos, all serving to help clients create their best self. Visitors are encouraged to explore the website at www.bellevuecounseling.net.
Bellevue Family Counseling was founded in 2008 by Marlon Familton, LMHC and Leah Koenig LMHC in Bellevue, Washington. Providing expert counseling for children, teens, adults, relationships and parent coaching in Bellevue, Washington, Bellevue Family Counseling is currently expanding its physical space and staff in order to meet increased demand for its services.
For more information or to contact Bellevue Family Counseling, visit www.bellevuecounseling.net.