New England Vacation Rentals Announces Expansion of Their Management Team
New England Vacation Rentals announced today that they have added two new team members: Marketing Director Danielle Raciti, and Operations Administrator Dawn Lord.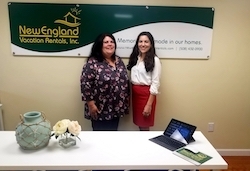 Harwich Port, MA, December 06, 2018 --(
PR.com
)-- Previously working in Boston and Rhode Island, Raciti offers her wealth of marketing expertise to NEVR. Raciti will be responsible for managing the long-term and daily marketing programs for New England Vacation Rentals. Prior to joining NEVR, Raciti worked as a magazine editor, writer and social media consultant for lifestyle publications and non-profits throughout New England. Her strong and varied design and editorial experience will be extremely beneficial as she takes over much of NEVR's branding, social strategy and web development.
A licensed and practicing Massachusetts's real estate agent, Raciti will assist in launching a new real estate sales company for NEVR. Her organizational skills, attention to detail and creativity are all valuable assets that will help propel NEVR forward.
A Connecticut native, Dawn Lord comes to New England Vacation Rentals with years of property management and home watch experience. Ms. Lord will assist in the day-to-day operations of NEVR, managing multiple projects with service providers and coordinating home issues for care and repair. She will head a newly implemented home watch program, which aims to greatly serve and benefit our homeowner's year-round. Additionally, Lord will handle all back-office logistics, allowing for a more streamlined guest experience.
Lord will continue to focus on building client relations, working on concierge services to benefit both the homeowners and guests of NEVR and becoming acclimated to home renovations and ongoing communication among third party vendors.
Memories are made in NEVR vacation rental homes. NEVR's mission continues to remain committed to being Cape Cod vacation rental home experts. NEVR does their best to match their guests to the right home for their needs while making sure our owner's homes are well cared for. At NEVR, moments matter. Families matter. Up next: a new real estate development company, beginning in the New Year. "The timing is perfect, and we're very excited to get started," says Logie.
Contact
New England Vacation Rentals
Joanne Logie
508-432-0900
newenglandvacationrentals.com/

Contact