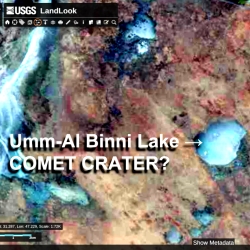 Solingen, Germany, December 24, 2018 --(
PR.com
)-- 4211 years ago in Mesopotamia in Iraq, in the area also known as "Eden," a comet crash occurred, unleashing the power of 9400 Hiroshima bombs that destroyed the Akkadian Empire and its capital.
That is the synopsis of the theory that the private company "Sethian Expeditions" pursues in their quest to explore a proposed impact crater in Iraq.
In support of this theory, the cratering research group of the University of Witwatersrand of South Africa described in 2004 a crater-like circular lake found on satellite images, that points to this cosmic impact.
The comet impact theory is further corroborated by an old clay tablet from the British Museum in room 55, that is called K8538. This tablet describes the comet impact event. This clay tablet has featured before in an asteroid impact theory in 2008. The authors Alan Bond and Mark Hempsell briefly gained worldwide attention, but they were not able to convincingly argue their case, because the evidence for a comet impact in Austria was insufficient.
A new translation of the clay tablet K8538 was done by Joachim Seifert (Sethian Expeditions) in 2014. Seifert worked with data mining expert Frank Lemke, formerly of the Humboldt University of Berlin. Seifert believes the Sumerian clay tablet describes an impact event that took place in Sumeria, and not Austria. Seifert and Lemke have estimated that the comet crash (otherwise known as the 4.2k Year event) extinguished the Akkadian Empire and the old Egyptian Kingdom.
The Sumerian tablet K8538 is hypothesized by Seifert as the first reliable eyewitness account of such a cosmic impact. The clay tablet was a late Babylonian copy of a much older Sumerian original, presumably from 2193 BCE. It was preserved for millennia as a direct report of God's omnipotence. K8538 may be regarded as the original source for the tales of Genesis.
Joachim Seifert believes that a few miles from the proposed impact crater at Umm-Al Binni, the outlines of an ancient port city can be seen in the desert sands, that he believes to be the lost city of Akkad.
The area where all this took place was marshland until recently, the ancient structures were covered by water. The draining of the marshlands has now revealed the mentioned city.
To raise funds for the Expedition, a crowdfunding campaign is underway at Indiegogo, where further details of the proposed expedition are listed:
https://igg.me/at/k8538/x/15542912
Scientific papers related to the expedition are on ResearchGate: https://www.researchgate.net/project/The-Sumerian-K8538-clay-tablet-and-a-huge-meteor-impact-may-lead-to-the-lost-city-of-Akkad