Elliot Kravitz, ATP Selected as a Top 50 Tax Professional for 2018 by CountingWorks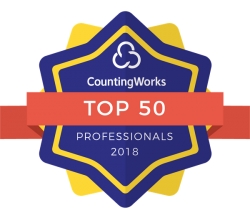 Cincinnati, OH, January 23, 2019 --(
PR.com
)-- Elliot Kravitz, ATP selected as a "Top 50 Tax Professionals" nationwide for 2018 by CountingWorks. "I want to thank all of my clients, friends, and family who have helped me make this possible. It has been such a blessing! I am forever grateful for your support."
In the summer of 2018, CountingWorks was launched to provide a marketplace for clients to find qualified cloud accounting and virtual CFO help, including CPAs, EAs and accounting professionals.
CountingWorks spotlights over 200,000 cloud accounting experts spread across the US, and with tens of thousands of visitors and thousands of appointment requests already processed, both clients and experts are finding tremendous value in the site.
CountingWorks was created because they believe that independent accounting and tax professionals are the backbone of the economy, and that cloud-based firms are looking to the future by taking advantage of all the latest technology the industry has to offer.
Smaller firms provide more personalized service and are more experienced than pop-up chains that come and go or try to wow you with celebrity spokespeople. Taking it to the next level are the firms who recognize the changing expectations of their clients and implement cloud-based practices to match those demands.
For the first time ever, CountingWorks is pleased to announce the Top 50 cloud accounting experts for 2018.
This list will be an annual way for CountingWorks to recognize professionals listed on the CountingWorks site that receive glowing reviews and regularly showcase the value they provide to their clients.
In this year's CountingWorks Top 50 list many clients describe these experts as "knowledgeable," "professional," "efficient," "friendly," "responsive" and so much more.
These enthusiastic 5-star reviews illustrate the type of relationship you can expect to have with any of our top CountingWorks cloud accounting experts.
www.countingworks.com/professionals/ohio/cincinnati/elliot-kravitz-atp
Contact
EMC Financial Management Resources, LLC
Elliot Kravitz
513-229-0086
www.emcfinancialonline.com

Contact