Charlotte, North Carolina Home to Spaulding Decon Opens Latest Franchise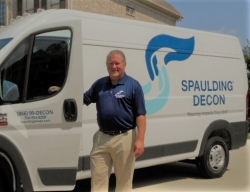 Charlotte, NC, January 29, 2019 --(
PR.com
)-- Spaulding Decon, a nationally established leader in crime-scene cleanup, hoarding cleanup and meth lab decontamination, is proud to announce its franchise location Charlotte, North Carolina, which opened July of 2018.
Gary Shaw, Spaulding Decon's Charlotte location franchisee, comes from a very different background, spending the majority of his career as a corporate executive but finds the work he does extremely gratifying.
"Though my franchise only opened a few short months ago, I've joined a company that has over 13 years of tremendous success," said Shaw. "Since July, I have already experienced the overwhelming satisfaction of seeing the results of my work and the tremendous impact that they can have on people's lives. What's more is that I love being part of the broader community, talking to people about the challenges they're facing and helping to solve them."
Prior to commencing business operations, Shaw went through two weeks of intensive training that covers the numerous services provided by Spaulding Decon from Spaulding Decon President and CEO Laura Spaulding at franchise headquarters in Tampa.
"Gary is the ideal franchisee for Spaulding Decon. His empathy and genuine nature make him ideal for dealing with our clients' distressed situations," stated Spaulding.
Spaulding Decon's Charlotte, North Carolina location serves mainly the city's metro area, but handles needs throughout the state. Those interested in their local services can reach Gary Shaw at: 704-954-8200.
About Spaulding Decon
Based in Tampa, Fla. since 2005, Spaulding Decon is the only franchise offering in the country for crime scene cleanup, hoarding cleanup, and meth lab cleanup as well as actively buys houses in cash. Spaulding Decon's unique real estate component provides their clients a way to get rid of the home and bad memories without being saddled with renovation, and restoration. Spaulding Decon also specialize in water restoration after emergency flood situations. The company has been featured in the Wall Street Journal, Entrepreneur Magazine, and the Huffington Post among other national publications. For more information on this exciting franchise opportunity visit, visit Spaulding Decon or call 866-99-DECON.
Contact
Spaulding Decon
Rebecca Grissom
813-298-7122
www.spauldingdecon.com

Contact