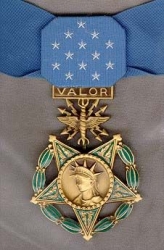 Beverly Hills, CA, March 24, 2008 --(
PR.com
)-- In 1991 the Congress designated March 25th as National Medal Of Honor Day, which was signed by former President George Bush. This date was chosen to highlight this special day because the first Medals of Honor were awarded on March 25, 1863.
Executive Producer Eva Choina of The Rock Entertainment enlisted the services of Julia Davis to create the television series hosted by Academy Award nominee Burt Reynolds. Julia Davis is VP of Fleur De Lis Film Studios, author and Screenwriter of an award-winning film.
Hollywood Producer/Director BJ Davis strived for decades to pay tribute to these known and unknown heroes. President Abraham Lincoln in 1862 ordered our nation's highest military award into service. Davis was developing the series since the 1980's. Medal of Honor has nineteen two-time recepients of this coveted award, a father and son, one woman, Dr. Mary Walker, one conscientious objector Desmond Doss, Wild West legend Buffalo Bill Cody and with some Civil War veterans as young as twelve years of age. Theodore Roosevelt is the only President to receive the Medal of Honor, which was also awarded to his son, Theodore Roosevelt, Jr.
Producers of the series interviewed the surviving Medal of Honor recipients at the Medal of Honor Museum dedication in Indianapolis. The Rock Entertainment and Fleur De Lis Film Studios have partnered to bring the series to television audiences, paying tribute to America's heroes. VP of Fleur De Lis Film Studios, Julia Davis stated, "It is a privilege to have personally met and interviewed Medal of Honor recipients, in conjunction with the festivities organized by the Medal of Honor Society. It is of the utmost importance to preserve and present these stories of bravery and valor, above and beyond the call of duty, to the American public. America would not be the land of the free if it were not the home of the brave."
Fleur De Lis Film Studios
9903 Santa Monica Blvd., Ste. 342
Beverly Hills, CA 90212
Tel: (310) 228-3108
E-Mail: contact@fleurdelisfilmstudios.com
Website: www.FleurDeLisFilmStudios.com
###