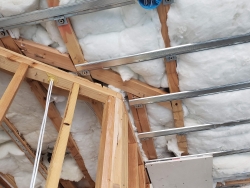 Cleveland, OH, February 14, 2019 --(
PR.com
)-- Keene Building Products is excited to introduce a new clip for enhancing the acoustic performance of ceilings and walls. Cylent Assurance™ Clip, developed and marketed exclusively to Keene, is a patent pending resilient channel vibration clip. The clip has been engineered to dramatically reduce low and high frequency noise transfer in ceiling/wall assemblies, commonly used in modern multi-family construction.
Cylent Assurance Clip is different than anything else on the market due to the ability to work with any type of resilient channel, including both Hat and RC-1 channels. Other vibration isolation clips on the market today are limited in their application.
Cylent Assurance Clip is uniquely designed to extend the length of the point of contact with the framing member and the channel. This significantly reduces vibration transfer across wall/ceiling assemblies and creates greater performance with sound ratings. Another benefit to the design is that it prevents the most common installation error, short-circuits.
Keene's Cylent Assurance Clip is the perfect choice for projects where noise is a concern, allowing architects and builders to dramatically improve the performance of wall/ceiling assemblies STC and IIC ratings. The product also provides peace of mind to both builders and architects, that the completed project will perform as expected.
Keene Building Products is an American manufacturer of 3-dimensional products for the building envelope, roofing, and noise control markets.
For further information call 877.514.5336, email at info@keenebuilding.com, or visit website: keenebuilding.com.