Oakland Female Hip-hop Artist Keldamuzik Signs with Loud Dust Recordings for Debut
The hip-hop world kicks out excitement on announcement of the release of the Keldamuzik debut album SHUT UP. LISTEN from Loud Dust Recordings in April 2006.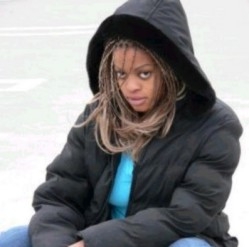 Burlington, VT, March 11, 2006 --(
PR.com
)-- Loud Dust Recordings is prepared to introduce a dynamic and vibrant female hip-hop artist, Keldamuzik, to the international hip-hop/rap scene with the release of her music in the spring of 2006. Loud Dust Recordings, an east coast label, has signed Oakland, CA's Keldamuzik for the release of her debut album "Shut Up. Listen", which was written and recorded by Keldamuzik in 2005 with production help from Squad Music Group. She is expected to be a powerful addition to the Loud Dust hip-hop/rap roster that also includes another Oakland artist Swicious, Chicago's HXN, Philly native Ace Boom Koon and many other new hip-hop and urban artists that have releases slated for the summer of 2006 with Loud Dust.
In a mostly male dominated genre, Keldamuzik confidently puts forth her interpretation of the future of hip-hop with the strong appeal of her own freestyle raps. A native of San Jose, California, Keldamuzik has had successful live performances in the San Francisco area and in Berkeley during 2005. Her immediately attractive look has also landed Keldamuzik in a series of online fashion magazines and advertisements. Seeing her and hearing her once, comments Loud Dust, is sure to get everybody captive to her popping sound, her poetic impact and her engaging rhythm.
After brief stints with the R&B trio KE and ethnic girl-group Astra, she was solo by the time she was 18 and began recording a debut release titled "Rain," under the name Kelda. Its release was halted after creative differences developed between her and the label and producer. Loud Dust Recordings is happy to be the label to present this hip-hop gold to U.S. and international markets beyond the bay area. Keldamuzik has already gathered eager attention and fans during an initial period of promotion and some shopping around of her finished SHUT UP. LISTEN project.
Loud Dust Recordings expects an April release date for "Shut Up. Listen" and this date will be announced in the early spring. By the summer of 2006 KELDAMUZIK's "Shut Up. Listen" will be widely available through entertainment stores and brands such as iTunes, Sony Connect, Ruckus, Musicnet, Tower Records, VCast Music/Verizon Wireless, Yahoo Music, MSN Music, Musicmatch, Cdigix, Rhapsody, Real Music, Emusic, Napster, BuyMusic, Snocap, Tiscali Music, Nareos, Passalong, Xingtone and many more.
For more information on KELDAMUZIK visit http://www.louddust.com and http://www.keldamuzik.com
###
Contact
Loud Dust Recordings
P. Shea
802-249-2081
http://www.louddust.com
PO Box 8521
Burlington, VT 05402
hxn@louddust.com

Contact