USA LESS Issues Voluntary Nationwide Recall of LEOPARD Miracle Honey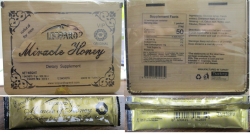 Brooklyn, NY, March 22, 2019 --(
PR.com
)-- USA LESS Issues Voluntary Nationwide Recall of LEOPARD Miracle Honey Due to Presence of Undeclared Sildenafil
Company contact:
USA LESS
Phone number: 1-800-872-5377
USA LESS is voluntarily recalling all lots of LEOPARD Miracle Honey, to the consumer level. FDA analysis has found LEOPARD Miracle Honey to be tainted with sildenafil. Sildenafil is an FDA approved drug for the treatment of male erectile dysfunction. The presence of sildenafil in LEOPARD Miracle Honey renders it an unapproved drug for which safety and efficacy have not been established and, therefore, subject to recall.
Risk Statement: Consumers with diabetes, hypertension, high cholesterol or heart disease often take nitrates; consumption of undeclared sildenafil along with nitrates could result in a drop in blood pressure that is life-threatening and could result in serious adverse health consequences. To date, USA LESS has not received any reports of adverse events related to this recall.
The product is marketed as a dietary supplement for men for sexual enhancement and is packaged in a wooden box labeled as LEOPARD Miracle Honey, UPC CODE 8 699415 910534 containing 12 SACHETS, total 180 Gr/6.36 Oz., each 1 SACHET is 15 gr/0.53 Oz, labeled LEOPARD Miracle of Honey, UPC CODE 8 699415 912859. USA LESS is a wholesaler of this product that was sold in the Northeast in the USA to stores and consumers.
USA LESS is notifying its customers & consumers through e-mail and is arranging for returns of recalled products that were purchased from USA LESS. Consumers/retailers that have product that is being recalled should stop using/return to: USA LESS, PO Box 250-138, Brooklyn, NY 11225.
Consumers with questions regarding this recall can contact USA LESS by phone at 1-800-872-5377 Monday through Friday, from 9 AM to 5 PM EST, or by e-mail at USALESS@OPTONLINE.NET.
Adverse reactions or quality problems experienced with the use of this product may be reported to the FDA's MedWatch Adverse Event Reporting program either online, by regular mail or by fax.
· Complete and submit the report online: www.fda.gov/medwatch/report.htm
· Regular Mail or Fax: Download form -- www.fda.gov/MedWatch/getforms.htm -- or call 1-800-332-1088 to request a reporting form, then complete and return to the address on the pre-addressed form, or submit by fax to 1-800-FDA-0178
This recall is being conducted with the knowledge of the U.S. Food and Drug Administration.
Contact
USA LESS
Mike Siro
718-922-9468

Contact