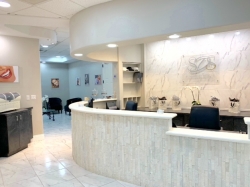 Las Vegas, NV, March 29, 2019 --(
PR.com
)-- Summerlin Dental Solutions celebrating complete office renovation for its one-year anniversary.
Who can say that they love going to the dentist? Well, the patients at Summerlin Dental Solutions can since Dr. Marianne Cohan, D.D.S. purchased the practice on March 1, 2018. From the high-end modern atmosphere that she created, to the knowledgeable and overly accommodating staff, and let's not forget the state-of-the-art technology; Dr. Cohan has somehow managed to create a spa-like atmosphere in a dental office. (In case you were wondering, the office even smells like a spa.)
However, it wasn't only design and aesthetic that Dr. Cohan was aiming for when she began to renovate SDS. She wanted the practice to have the most current technology available to care for her patients. Dr. Cohan refers to herself as a "tech nerd." Aside from having 50" screen's in every operatory for the patients, she also is one of the few offices in Las Vegas that has a dental MRI (CBCT).
Dr. Cohan's vision is what she refers to as "concierge dentistry." She and her staff strive to make dental care as pleasant and comfortable as possible. Dr. Cohan says, "We aren't growing a brand with SDS, we are really growing a family," and the dental market needs a new face. She notes that the calming and tranquil atmosphere better accommodates patients that have had bad experiences at other dental offices and are nervous about having dental work done. One Yelp reviewer named Eric G. agreed stating, "The office is very updated and modern. Staff are very friendly & attentive. Which put my nerves at ease of being at a dental office."
Don't think that because it's their one-year anniversary that Dr. Cohan is new to the dental field. She received her Doctor of Dental Surgery (D.D.S.) from the State University of New York at Buffalo in 1992 and has been in practice for twenty-six (26) years. Dr. Cohan had previously built a highly successful practice from the ground up in Green Valley, NV.
"We're not finished, yet," says Dr. Cohan. Although the dental office portion has been completed, Dr. Cohan plans on adding an extension to the current office offering cosmetic procedures, such as Botox, and fillers such as Restylane and Juvéderm. "Cosmetic procedures like Botox and fillers work extremely well to give you a full smile makeover that can completely change your confidence level," says Dr. Cohan.
But, how much does it cost to boast a perfect, pearly white smile? Dr. Cohan notes that is a lot less than some competitors in the Las Vegas area since she is an in-network provider with almost twenty (20) insurance companies. If you don't have dental insurance, SDS offers payment options like Care Credit to help ease the burden of needing expensive dental treatment.
One thing is for sure, SDS should be your new dental home! SDS can be reached online at dentalsolutionslv.com or call them at (702) 341-9160.
Full Contact Information:
Summerlin Dental Solutions
851 S. Rampart Blvd., Ste. 230
Las Vegas, NV 89145
T: (702) 341-9160
www.dentalsolutionslv.com