NY Radiation Specialists Unveils State-of-the-Art Linear Accelerator at NYCBS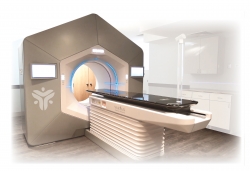 Port Jefferson Station, NY, April 08, 2019 --(
PR.com
)-- On Tuesday, March 25, New York Radiation Specialists unveiled its brand new Varian Halcyon Linear Accelerator, at New York Cancer & Blood Specialists' Eastchester Center for Cancer Care. The "NYCBS" Eastchester location is a multi-lingual facility located at 2330 Eastchester Road in the Bronx, just minutes from the Pelham Parkway. The Halcyon makes the NYCBS Eastchester Center for Cancer Care the most state-of-the-art radiation site in the region.
This cutting edge machine boasts features and benefits previously considered impossible. The Halcyon uses optimized guided radiotherapy technology to shape radiation beams to precisely match a patient's tumor. These "beam shapers" deliver pinpoint accuracy of radiation to the areas that need it, protecting surrounding tissue and reducing the risk of side effects. In addition, the sophisticated design drastically reduces a patient's table time. Since the accelerator is a self-contained unit, it is free to rotate up to four times faster than traditional models. The Halcyon can deliver effective radiation therapy in as little as five minutes. "Having the ability to deliver more effective treatment in less time is a win for the patient and aligns perfectly with New York Cancer & Blood Specialist's mission to provide the highest quality of care," said Dr. Reuven Grossman, an NYCBS Radiation Oncologist. "This new technology provides the most targeted and effective radiation treatment available anywhere." Patients even have the option of checking themselves into the unit using a touchscreen and their I.D.
The superior design of this machine coupled with the performance of the NYCBS team allowed for the most efficient installation in history. "I think it is important to acknowledge Varian's shared vision and dedication to this goal as we could not have done this as efficiently without them" NYCBS VP of Project Management, Michael Boonin added. The entire installation process took two weeks which is a marked improvement over the industry standard of three months. This invariably enables patients to receive lifesaving treatment and therapy faster.
nyrad.com/blogs/nycbs-unveils-state-of-the-art-linear-accelerator/
Jeffrey Vacirca, New York Cancer and Blood Specialists CEO acknowledged the merits of this state-of-the-art technology, "As newer and more effective treatment options become available, you can count on NYCBS to be at the forefront of cancer care, whether it is a new drug, a clinical trial or in this case a new machine. It is our pledge to our patients that we will continue to embrace new technology in our quest to conquer cancer closer to home."
Contact
New York Radiation Specialists
Michael Scanlon
631-574-8366
http://ny-radiation.cdwebsites.org/types-of-cancer/

Contact