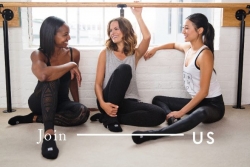 Livermore, CA, April 21, 2019 --(
PR.com
)-- Local Bar Method owner/instructor Meghan Cooney introduces premier barre-based workout known for its targeted and effective body sculpting exercises.
The Bar Method® Livermore celebrates Grand Opening. The new 1000 square foot studio will be the 137th Bar Method studio nationwide, bringing its signature technique to provide a safe, challenging and graceful workout to the community.
To celebrate its Grand Opening, The Bar Method Livermore will offer their first-ever in studio classes on Saturday, April 27th, 2019 at 7:30 am, 8:45 am, and 10:00 am. The official no class celebration will be hosted from 4:00 pm to 6:00 pm. New customers can sign up to classes and RSVP for the grand opening by visiting The Bar Method's website. During the 4:00 pm to 6:00 pm celebration, the community is invited to help celebrate the festivities which will include refreshments and light bites, games and raffles prizes, vendors, merchandise, customer subscription sign-ups, on-site demo exercises in the studio rooms, studio tours for founding members, new clients and meet and greet with instructors & studio owner, Meghan Cooney. In addition, the studio is currently offering a "Pre-Sale Special" – Pay $79 now for the first month The Bar Method is open and then $140/month - locked in for at least one year.
The Bar Method is the pioneer in the growing barre-based exercise programs with safe, fun, hour-long workouts that use isometric exercises to strengthen and tone all major muscle groups, followed by periods of stretching to elongate, lengthen and align the body. It was developed under the guidance of physical therapists to reshape muscles, burn body fat and improve posture.
The Bar Method Livermore, California is the first studio owned and operated by Cooney. Located on 2482 Nissen Drive, Livermore, CA 94551, they will offer several amenities, including a bright lobby, lockers and a Kids Club.
Founded in 2001, The Bar Method is the pioneer in barre fitness. Hundreds of thousands of students have experienced The Bar Method as the optimal workout for developing a strong, sculpted body. It strengthens and tones all major muscle groups, burns fat, and improves posture and flexibility. Classes are led by highly-trained instructors who provide personal attention and ensure that exercises are safe and effective.
"I have over three years experience with The Bar Method, both as a client and as an instructor. I've experienced firsthand the grace and grit that the workout requires, as well as the amazing results you see as a reward for your hard work! Bar Method has helped me feel physically healthier and mentally stronger than I ever have before, even more so than playing collegiate sports. I love that the workout is low impact yet only gets more challenging as you progress. Bar Method has made my body lean, toned, flexible, and, best of all, pain-free," said Meghan Cooney. "I am excited to shake with everyone in class and to build a supportive Bar Method community in Livermore that helps women and men feel strong, connected, and empowered."
For more information, visit The Bar Method Livermore online, or on Instagram and Facebook.