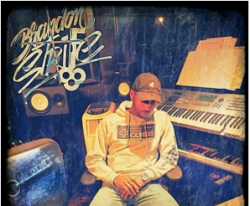 Los Angeles, CA, April 23, 2019 --(
PR.com
)-- Dream big; We hear it in nearly every self-help book, motivational speech, and certainly as young adults heading out into the real world for the first time. If only it were that easy. Most of us learn through hard knocks that life is full of ups and downs, brick walls, red tape, bills, disappointments, responsibilities...the list goes on. Before we know it, those dreams can quickly turn into distant memories.
What if grabbing life by the horns is more than just dreaming big? Perhaps there needs to be more focus put on getting out, taking action, and making things happen. That's the message Brandon Strife has to say in his new single "Dream Shit."
Raised in the Midwest, the southern California transplant has a long history of making music. The youngest of six children, Brandon grew up watching his brothers create and perform. Inspired, he decided to try his hand at rapping which led him to form several groups. The most notable being The Grizz & Band Regal whose mixtape The Relic received five stars on Dat Piff back in 2015. Now, with a little more life under his belt and more stories to tell, he is releasing his first solo singles under the name Brandon Strife.
Strife is a reference to the struggles and "Strife" Brandon has experienced in his life. His new music seeks to offer his perspective on challenges many of us face everyday. Among those being, living your dream.
"We all have a dream," says Brandon, "but too many of us get so caught up in the dreaming and planning that we never actually make things happen. That's what 'Dream Shit' is about - getting real and making your dreams come true."
"Dream Shit" is the first in a series of singles which will be released in 2019 for a new project called "The Comeback Kid." Brandon says, "I try to be authentic and honest in my music. I care about people and I care about what my music says. It's not about money, image, or clicks, it's about the people you reach." Details about the "The Comeback Kid" project will be made public later this year.
"Dream Shit" was released on Soundcloud earlier this month and already has over 6,000 plays. It will be available on iTunes, Spotify, and other digital retailers April 22nd. You can listen to the single here:
https://soundcloud.com/BrandonStrife
You can find Brandon Strife on Twitter @BrandonStrife and Instagram @Brandon_Strife
To coordinate media coverage, feature "Dream Shit" on your site, or to interview Brandon, please contact Stephen at SMTentertainment@gmail.com.