"Ambiguity" by Elizabeth Wadsworth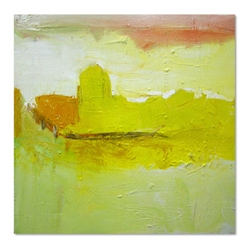 Strawberry Hills, Sydney, Australia, March 13, 2006 --(
PR.com
)-- Following an exhibition in Singapore, Elizabeth Wadsworth presents her latest series of paintings "Ambiguity". "Ambiguity" is a product of a year's work for Wadsworth, resulting in a collection of breezy abstract canvases that are both playful and profound.
In "Ambiguity", Elizabeth Wadsworth's newest of 15 solo art exhibitions, thickly applied layers of oil paint convey a fervent energy and movement, contradicted by her use of fresh and soothing gelato colours. As a result the works combine both a fierce intensity and a contemplative feeling of calm. This duality appears surprisingly harmonious; the works do not seem laboured but as though they were executed with grace and ease.
Exhibition launch of "Ambiguity" will be on Tuesday 14th of March 6pm - 8pm and will run from Wednesday 15th to Wednesday 29th March 2006 at Maree Mizon Gallery, 43 Queen Street, Woollahra, Sydney, Australia. You can preview "Ambiguity" online now, please visit Elizabeth Wadsworth's website.
Elizabeth Wadsworth has always explored creative avenues throughout her career and, after success in fashion and interior design, has pursued her talent in painting. In 1993 she graduated with a Diploma of Fine Arts, majoring in Painting, from the highly-acclaimed National Arts School in Sydney.
Influenced by her experiences and interaction with the world, travelling being a major source of impetus, Wadsworth focuses her own journeys onto canvas. Telling her stories through manipulation of paint and collage, her works speak of a process - the gradual layering of paint and rubbing it back while wet.
Her use of colour is evocative and often the initial source of inspiration for a series of works, alternating from warm to cool colours for each series.
Elizabeth Wadsworth is represented in important private and corporate collections in Australia and internationally, including GIO Insurance, Village Roadshow (LA, USA), Ariadne Gallery (New York), Sydney Harbour Foreshore Authority, and Roche Corporation. She is represented in Sydney by Maree Mizon Gallery, and in Melbourne by Gallery Ten Eleven. Her international representation is through Yaddo Art in Singapore, where she recently exhibited her work in the 2005 group exhibition "Elements".
Preview the upcoming "Ambiguity" exhibition now by visiting the Elizabeth Wadsworth website: http://www.elizabethwadsworth.com/
Or the Maree Mizon Gallery website: http://www.mareemizongallery.com.au/
###
Contact
Elizabeth Wadsworth
61 412 520 922
www.elizabethwadsworth.com

Contact