Load King, a Custom Truck One Source Company, Buys Boom Truck, Truck Crane, and Crossover Product Lines from Terex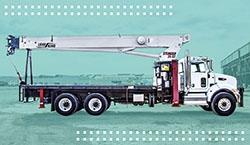 Kansas City, MO, April 25, 2019 --(
PR.com
)-- Load King LLC, the well-known manufacturer of quality specialized equipment and trailers, today announced its acquisition of Terex Corporation's boom truck, crossover and truck crane product lines. The acquisition marks the latest milestone in the continued expansion of Load King's manufacturing portfolio, which already encompasses cutting-edge water tank, dump body, roofing conveyor, mechanics body and trailer lines.
"I am delighted to announce this acquisition and its launch of boom truck, crossover and truck crane product lines under Load King's brand," said Fred Ross, Chief Executive Officer. "This announcement marks the latest chapter in a resurgence at Load King, which, since becoming a wholly-owned subsidiary of Custom Truck One Source in December of 2015, has proudly resumed a leading position in the industry."
Load King plans to unveil new and enhanced crane configurations in the near future, among other developments and opportunities expected to accelerate the company's continued growth. The company is currently transferring inventory and equipment for the acquired product lines to Load King's growing campus in Kansas City. Terex will work closely with Load King to ensure a smooth transition and will continue to sell parts and offer support to boom truck, truck crane and crossover customers during an anticipated one-year transition period.
About Load King
Load King has been producing first-class trailers and other heavy equipment since 1956. Cutting-edge innovation and engineering excellence make us the market leader. As a key part of the Custom Truck One Source family of brands, we offer a complete line of custom designs as well as standard model trailers through our world-class dealer network. For more information, please visit Load King's website: www.loadkingmfg.com
About Custom Truck One Source
Custom Truck One Source is the first true single-source provider of specialized truck and heavy equipment solutions. With sales, rentals, aftermarket parts and service, equipment customization, remanufacturing, financing solutions, and asset disposal, our team of experts, vast equipment breadth and integrated network of locations across North America offer superior service and unmatched efficiency for our customers. For more information, please visit Custom Truck's website: www.customtruck.com
Contact
Load King LLC
John Lukow, Senior Vice President - Cranes
765-277-2588
www.loadkingmfg.com

Contact