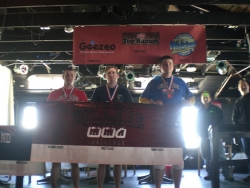 West Hartford, CT, March 30, 2008 --(
PR.com
)-- The world famous Paddy's Beach, Rhode Island. From the beginning of Saturday's College & Live the Legend MMA 103 events, you could tell something special was under way. The air was rich with the excitement of friendly competition and a true sense of community being built, as competitors came together, representing Colleges and Universities all over the Northeast to have some fun and put it all on the line.
Building on the momentum of the two previous events sponsored by Geezeo, Fed Ex Kinkos, Whitford Securities, Greenleaf BioFuels, Ramen Noodles, and Paddy's Beach—Jim Hughes and Royce Gracie Brazilian Jiu Jitsu of Connecticut and New England organized yet another excellent event featuring two action packed divisions of MMA grappling action. The 103 event showcased both College MMA and Live the Legend MMA challenges to accommodate all competitors. "Today's events were a great way to get some valuable competition experience and really feel like part of something great" concluded Greg DiCrosta, a Live the Legend MMA Challenge competitor fighting out of New haven Connecticut. "Who knew competing in an event like this could be so much fun?"
No stalling, just go for it!
Featuring rules that encourage competitors to go for submissions—the essence of Jim Hughes and Royce Gracie Brazilian Jiu Jitsu—the event featured dozens of submission victories including a beautiful 35 second armlock applied by first place Live the Legend MMA finisher, Josh Hesser from Norwich CT. "The rules really make you go for it," stated Hesser. "Because there is no tournament mentality to win on points, stall and waste time, all my matches today were full of action."
"We designed this unique event and its rules to help prepare fighters from all over for our upcoming MMA shows" said Jim Hughes the events founder and promoter. Once May rolls around, all matches will be held in regulation rings right on the beach. Another facet that makes the event unique is that all competitors wear regulation gloves during their matches. "The idea is to help competitors get used to working techniques and submissions as if they were in a MMA match," explained Hughes.
"The College MMA Challenge has been great for me. I'm preparing to step into the ring very soon and these matches are the best way to gain valuable experience while getting to represent my school," explained Josh Randorf today's College MMA Challenge second place finisher and a Central Connecticut State University student. "I feel a real connection to all these guys—we're all working toward a common goal of being the best fighters we can be."
Giving fighters experience in a safe and friendly beachfront venue is only the beginning.
Congratulations to the follow finalists:
College MMA 103 Challenge Results
1st Place Dan Mifflin- Yale University
2nd Place Josh Randorf- Central Connecticut State University
3rd Place Nate Kenyon- University of New Haven
Live the Legend MMA 103 Open Results
1st Place Josh Hesser
2nd Place John Gagnon
3rd Place Eric Conley
"As the weather heats up, so will our shows" proclaimed Hughes. "The response to these unique events has been incredible and I want to invite all competitors to visit collegeMMAchallenge dot com, LiveTheLegendMMA dot com, and gracie-jiu-jitsu dot com for all the latest information on all our upcoming College MMA and Live the Legend MMA events. It promises to be a great summer at the beach," Hughes continued. "In concert with our great competitors and generous sponsors, I personally can't wait for the next one!"
###