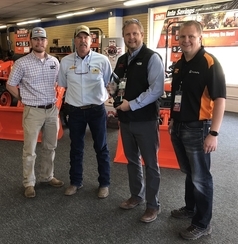 Fort Morgan, CO, June 12, 2019 --(
PR.com
)-- Wickham Tractor Co. is top-volume dealer for Land Pride in Colorado.
This week, Wickham Tractor Co. (WTC) was recognized as the largest volume dealer of Land Pride implements in Colorado for 2018.
Land Pride, a division of Great Plans Mfg., Inc., has been a leader in grounds maintenance equipment since opening their doors in 1986. They are a leader in tractor-mounted implements such as snow blowers, overseeders, rotary cutters, landscape rakes, rotary tillers, and more.
Wickham Tractor Co. has been selling Land Pride implements since 2007 and carries their full line.
Great Plains Mfg. was sold to Kubota in 2016 and continues to be an industry leader in quality, reliability, and equipment availability. The acquisition meant that Kubota dealerships, including WTC, became the only stop necessary for someone to get equipment. Land Pride understands consumer needs for the compact tractor market, especially across the diverse geography of Colorado and is proud to be manufactured in Kansas.
"Land Pride is a great brand," said Jason Wickham, who is co-owner of WTC with his brother, Brad Wickham. "Their implements are high quality and often built to match Kubota equipment, which is perfect for us as a Kubota dealer. This means that we can offer our customers what they need for every project, whether they're seeding grass or blowing snow."
The Land Pride slogan is "Over 350 products to fit your lifestyle." WTC customers have seen this slogan first-hand as they customize equipment to meet every need, in both their work and home tasks. WTC is thrilled to be a top-volume dealer for Land Pride and looks forward to an equally successful year in 2019.
About Wickham Tractor Co.
Wickham Tractor Co. was founded in 1960 by a father and two sons from eastern Colorado. The business is now 4th-generation-owned and has five locations in northern Colorado. The dealership carries a range of agricultural and construction equipment brands, including Kubota, Case IH, Land Pride, Can-Am, MacDon, and Polaris. To find out more about the company or to browse their extensive inventory, visit www.wickhamtractor.com.