PMG Introduces Next Generation Ready-to-Implement Marketing Kits for Small Businesses with Market Warfare Book & Other Resources Bundled in
In this tough-as-nails, market economy, small businesses need an edge. PMG has taken the proven experience that the big players have used to their advantage and translated this into affordable, ready-to-implement marketing kits. The family of kits tackles some of the toughest challenges that small companies face. PMG continues to evolve core kits with additional content/techniques and develops new kits to keep pace with the demands of the fierce, competitive arena.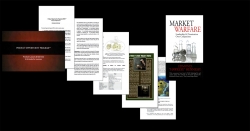 Boston, MA, June 21, 2019 --(
PR.com
)-- Ed Hennessy, CEO of Performance Marketing Group (PMG-Results), announced the introduction of the next generation of Ready-to-Implement Marketing Kits that will allow small businesses to have the means of developing effective market programs just like the big guys on the block.
The family of kits is based on decades of Client Programs experience translated into a complete package consisting of a Program Overview, Implementation Guide, PMG unique tips, real-world, Client reference materials, supportive articles and the addition of a digital version of the award-winning book, "Market Warfare: Leadership & Domination Over Competitors," which was authored by Mr. Hennessy and endorsed by Industry heavy-hitters Jay Conrad Levinson, the Father of Guerrilla Marketing and Gary K. Wolf, the creative genius who authored the book fueling the Disney Blockbuster movie "Who Framed Roger Rabbit?"
The kits allow the do-it-yourself user to tailor the kit to their specific business with little modification, available with or without PMG Consultative support.
Mr. Hennessy asserts, "There is no singular source that brings all of this together, within one complete package that takes the client company from Market Programs design – development – to full implementation. The kits are based on actual Client Programs experience, which minimizes risk, provides continuity and assures effectiveness."
It has taken roughly six (6) years of continuous effort to get the kits to the current level.
Available kits include:
- Product Opportunity Program (POP™) – a product launch/roll-out methodology that drives and supports product or service introductions for the full Life-Cycle. POP™ can be applied to new product introductions or to revitalize existing product sales.
- Competitive Replacement Program (CRP™) – a hard-hitting, Competitive Attack Program that exploits the Competitors' weakness and vulnerabilities to generate sales and acquire a new Customer base for your company – this Program leverages PMG's arsenal of Market Warfare techniques.
- Competitive Positioning Workshop (CPW™) – a unique, hands-on training workshop that can easily be mastered to provide your direct Sales Force, Third Party Partners and distribution channel what they need to provide a knockout punch to the competition by "defining the customer problem in your terms, not the Competitors'." This is an advanced sales development program that leverages not only what big companies practice, it also intertwines PMG's unique approaches and techniques into a highly interactive training format spiced with role plays, problem-solving drills and mini case studies.
- Target Action Plan (TAP™) – this program product is referred to as the "Missing Link," which is a bridge between Strategy and Tactics. TAP™ utilizes a 7-Step approach to evaluate your current business priorities and workload and then maps this against your organization's Critical Success Factors (CSFs). For most organizations, this is an eye-opener, which results in better alignment with the CSFs and focus on those things that drive effectiveness and success.
Potential users can visit the Corporate website, review the content of each of these kits and purchase them online at:
http://www.pmg-results.com/products.html
Potential users for the kits will be pleasantly surprised by their affordable price.
In the works are new kits focusing on Channel Partner/Network development, Strategic Alliances, Leveraged Relationships and Major Account Development.
"Our objective is to translate PMG's program experience into practical kits - one aspect of our Market Programs business - that literally any small business can afford and put to practice to make a difference."
www.pmg-results.com
Contact
Performance Marketing Group
Ed Hennessy, CEO
603-320-4593
www.pmg-results.com

Contact
Multimedia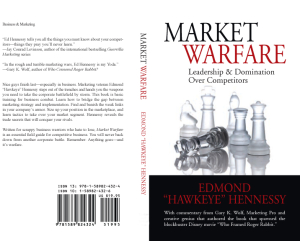 The Market Warfare book is basic training for business combat and provides field-proven approaches to develop new business and outmaneuver the competition, giving you the edge to cope with this tough-as-nails, Market Economy.