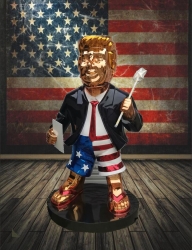 Rosarito Beach, Mexico, August 07, 2019 --(
PR.com
)-- Artist and designer, Tommy Zegan is currently working on his latest Caricature sculpture of President Donald J. Trump called "We the people" aka "Trump and his Magic Wand." Mr. Zegan and his crew have been working on this 6' 3" clay mold for months now and they are pretty close to completing the stainless steel statue. Once completed, this colorful chrome and translucent statue will be offered at $150,000,000.00 making it the most expensive statue in the world.
The current highest price statue is called "Pointing Man" that sold for $141,300,000.00 by the late artist Alberto Giacometti (1901–1966). The "Pointing Man" or "L'homme au doigt," is a life sized sculpture of a thin man in typical Giacometti style, that was created by the Swiss artist in just one night between midnight and nine the next morning. It was rapidly made for his first exhibition in New York in 1947.
This is Tommy Zegan's second life size statue that he has made. His first statue was a larger than life bronze statue of NFL Hall of Fame quarterback Brett Farve commissioned by Los Angeles-based business transactional Attorney and former NFL/PA Certified Contract Advisor, Bruce Singman, Esq., who was in the vanguard of those Advisors who championed free agency for the NFL players in 1987 and President and CEO of All Pro Sports Video Productions. Mr. Singman commissioned the creation of the life size bronze stature of National Football League Pro Football Hall of Fame Quarterback Brett Favre aka "The Gunslinger."
To see the other artwork, visit: yessy.com/tomzegan