GEAR AID Launches Silnylon Repair Patches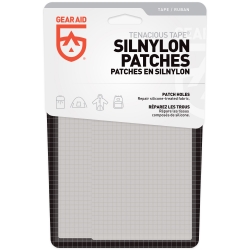 Bellingham, WA, September 05, 2019 --(
PR.com
)-- GEAR AID is expanding its line of Tenacious Tape® with the new
Silnylon Patches
. Simple and easy-to-use, these peel-and-stick patches permanently fix rips and tears in silicone-treated and lightweight fabrics, including silnylon tents, tarps, and backpacks. Priced at $9.95, it's a hassle-free patch for torn gear that's worth every penny.
With Tenacious Tape Silnylon Patches, repairing ultralight gear is fast and mess-free. Whether at camp or at home, just peel-and-stick it on the damaged material to patch a hole or tear. The new silicone-based adhesive adheres permanently, without heat to silnylon, nylon and even vinyl. Use it on tents, tarps, hammocks, inflatables, sleeping bags, dry sacks and more. With two 3"x5" repair patches included that can be cut to size, it's a convenient solution to unexpected rips and gashes.
"It's now easier than ever to repair high-tech, lightweight gear with our Silnylon Patches," says Christian Rudolph, GEAR AID product manager. He adds, "There's nothing quite like it on the market today. It's a quick fix to extend the life of silnylon tarps, tents, backpacks and dry sacks."
These weather-resistant repair patches will fix gear of all types; its versatility makes Silnylon Patches an essential part of any lightweight pack or gear kit. It will be available on gearaid.com and select retailers in September.
About GEAR AID
GEAR AID champions renewal in the lives of those who play and work outside. We empower people to make gear last longer by designing reliable camp tools and products that fix and restore outerwear, footwear, and outdoor gear. With more than 100 quality products including Aquaseal, Seam Grip, Revivex and Tenacious Tape, we make gear better and adventures bigger. Learn more at gearaid.com.
Contact
GEAR AID
Cheriss Faiola
360-671-2227
www.gearaid.com

Contact