Motown Songwriter Paul Lubanski Releases Patriotic Ballad "We the People"
Motown Songwriter Paul Lubanski releases patriotic ballad "We The People" worldwide September 20.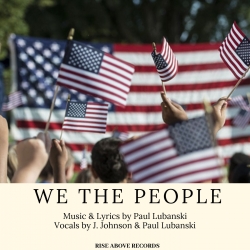 Detroit, MI, September 20, 2019 --(
PR.com
)-- Building upon the synergistic success of their first two albums Next Buzz - 2016 and Just The Right Amount of Wrong - 2018, as well as a number of critically acclaimed single releases - J. Johnson and Paul Lubanski have once again combined to create a song that Country Music industry insiders say has mass commercial appeal - even having the potential to rival Lee Greenwood's heralded, "Proud To Be An American" hit of a few decades back. The lyrics pay specific homage to the brilliance of the men and women that authored our founding document - the Constitution.
"We The People" releases worldwide today in all online stores - including Apple iTunes, Amazon, Spotify, Pandora, and scores more under the Rise Above Record label.
"Our goal is not to profit from this particular effort," said Paul Lubanski. "Our true aim is to help heal our divided nation and to offer the song to President Trump pro bono as a Campaign 2020 rally song. We love our best-ever nation and unequivocally support President Trump and his efforts to Make America Great Again." Lubanski concluded: "This is our attempt to place into words and music our pure love of all-things American!"
Visit Lubanski's YouTube channel and connect with him on Facebook.
Contact
Rise Above Records
Paul Lubanski
248-762-6998

Contact