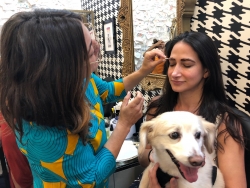 New York, NY, October 04, 2019 --(
PR.com
)-- The Economist is touting 2019 as "The Year of the Vegan" and the New York Times states, "This demand for all things vegan has made other industries take notice, especially beauty." Boom Boom, owner of
Boom Boom Brow Bar
, is a lover of all animals and all people, and extremely proud to offer vegan brow and lash tinting services.
Boom Boom uses RefectoCil for lash and brow tinting, it's vegan, so it does not contain animal-based raw materials, and it is cruelty-free, not tested on animals.
"It's important for people to focus on using non-toxic products - why wouldn't you want to be safe? The skin is your largest organ and it absorbs all these products. Plus, on eyes you must be the most careful!" says Boom Boom.
Whether going vegan for health reasons or environmental, make sure to read the ingredient list on beauty products and become familiar with the ones to avoid. Ingredients like keratin, carmine, honey, beeswax, gelatin, lanolin, squalene, shellac, glycerin, guanine, steric acid, casein, oleic acid/tallow, collagen, elastin, musk oil and silk powder can all be derived from animals.
"And make sure to ask about the products your esthetician and hairdresser uses on you, there are more and more clean, vegan, cruelty-free options than ever before, and you owe it to yourself and mother earth to be conscious of what is being applied to your body and washing into our waters!" she adds.
Images: https://www.dropbox.com/sh/0ex9kfyzu9kec21/AAAKkAiSwcXaNflHA8uAEqv6a?dl=0
Boom Boom Brow Bar is 11 years strong. As one of the first walk-in brow bars in NYC, Malynda Vigliotti (aka Boom Boom) empowers others to celebrate their own personal gorgeousness without breaking the bank or making appointments. She makes brows fast, convenient, affordable and fun – 26K+ served last year...376K+ since 2008. She is The brow expert for the International Beauty Show in New York and Las Vegas. The New York Times loves Boom Boom: http://www.nytimes.com/2011/01/23/nyregion/23joint.html; Vogue does too: https://www.boomboombrowbar.com/press/; and Refinery29 named Boom Boom Brow Bar one of the top 10 spots to get the best brows ever: http://www.refinery29.com/eyebrow-shaping-nyc#slide-9. Also seen in In Style, Bustle, Byrdie, PopSugar, The Knot, Nylon, Vogue UK, Spa Week, American Spa, Eye Lash, Newsday, The New York Post...Shop for products, services and gift cards on boomboombrowbar.com. Instagram: @BoomBoomBrowBar; Facebook: @BoomBoomBrowBar and Twitter: @BoomBoomBrowBar. Contact: Glow Communications, squinn.glow@me.com, 207-781-2598.