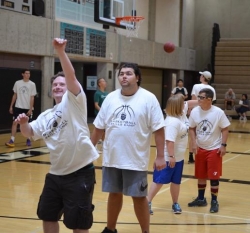 Aliso Viejo, CA, October 15, 2019 --(
PR.com
)-- The Aliso Niguel High School Junior Varsity and Varsity teams held the 3rd annual Basketball Skills Clinic for Special Needs Young Adults on October 12th at the high school gym.
Twenty five young adults worked with Coach Jonah Ganz, the Junior Varsity and Varsity team players on basketball skills, dribbling, and ultimately played a scrimmage. Head Coach Keith Barnett teaches his players on and off the court the importance of community outreach.
Special Needs players were each given a camp T Shirt and invited to attend a High School Varsity game during the season to cheer on the team. Varsity member and Junior, Nick Steiert coordinated the annual event. Nick said, "It's great to work with the players during the clinic and then to see them again at the varsity game."
Debbie Pelichowski and several high school youth group students from Coast Hills Community Church in Aliso Viejo joined to serve and cheer on the players.
Young adults from Glenwood House in Laguna Beach, the Lighthouse Ministries and Coast Hills Community church were all invited. Thanks to donations from Costco in Aliso Viejo and Ralph's in Liguna Niguel, players and families enjoyed pizza together following the event.