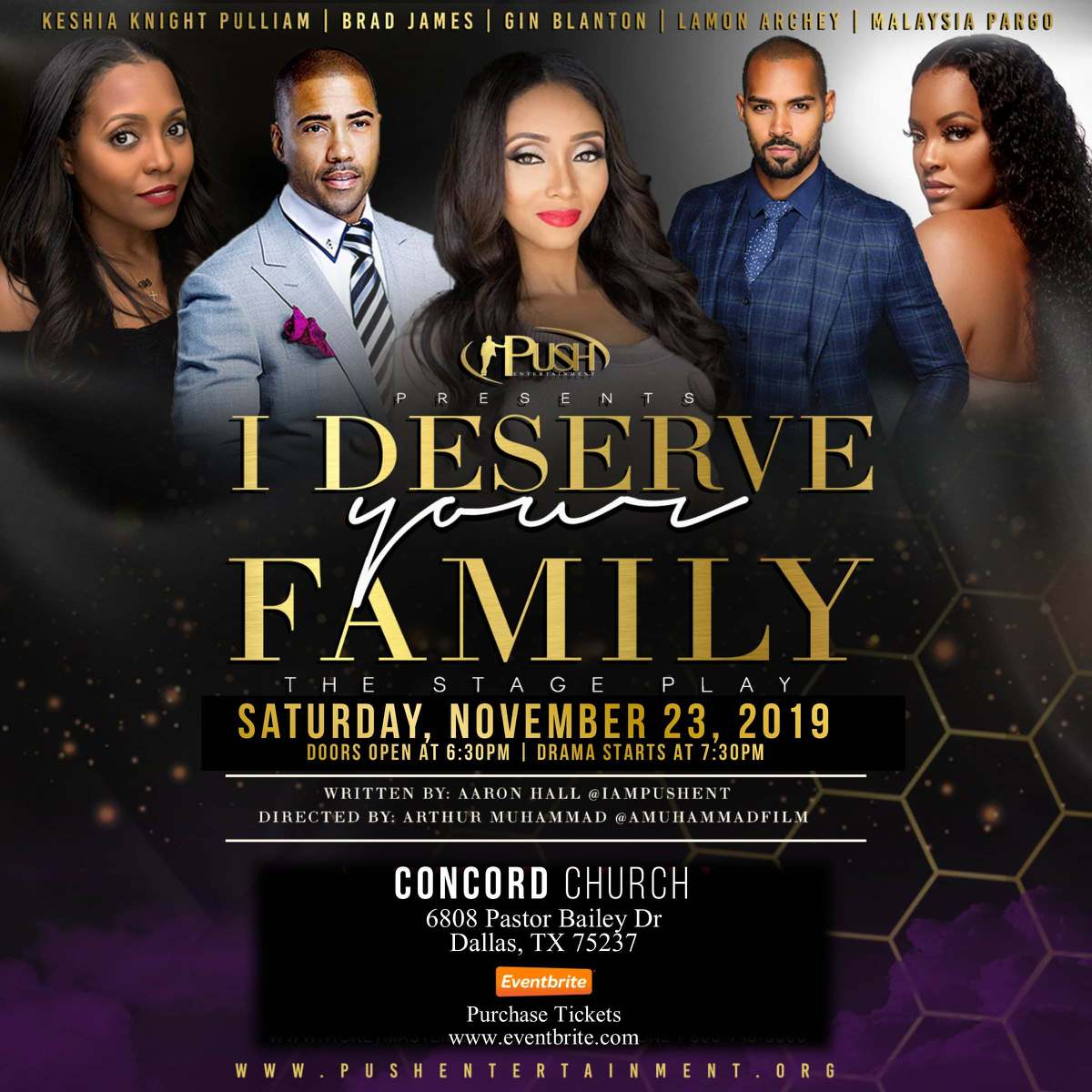 Dallas, TX, November 09, 2019 --(
PR.com
)-- "I Deserve Your Family" a must-see stage play with a world class production support is slotted for performance on Saturday, November 23, 2019, at 7:30 p.m. at the Concord Church located at 6808 Bailey Drive Dallas, Texas 75237.
A tangled web is woven when a scandalous affair produces more than betrayal, mistrust, and heartbreak. The cast consists of Actress Keshia Knight Pulliam of "The Cosby Show" and Tyler Perry's "House of Payne." Actor Brad James of "For Better or Worse," "Daddy's Home," "A House Divided" and more. The cast also consists of Actor Lamon Archey of "Days of Our Lives" and "The Young and The Restless." Reality TV Star Malaysia Pargo of "Basketball Wives LA" and actress and leading lady Gin Blanton of which will set the mood for the entire platform.
Local cast members consist of seasoned and talented individuals such as Telvin Griffin, Lakeicha Thomas, Alexandria Warfield, Jonathan Lamar Egbuna, Contessah Davis, Kris Gardner and Tasha Harden of which will present the script in a way the audience is sure to be on the edge of their seat and captivated by the spectacle of surprise and the element of illusion.
Attendees can expect the unthinkable as the audience will experience spirals and alluring moments as the plot thickens to resolve an intricate conclusion.
Push Entertainment brings the latest and greatest offerings in the film and television industry by way of a script that is fit for the big stage. The organization provides entertainment suitable for the whole family and with a quality line-up of talented cast members and a well versed cast of serious characters, attendees can't miss with this one.
Push Entertainment and Aaron Hall's mission of uniting family, fathers and community is the underlying message found in all of Push Entertainment's plays. This drama is written and produced to inspire, to entertain and to empower.
For tickets: Eventbrite Push Entertainment
For up to date play information:
https://www.pushentertainment.org
Social Media:
@iampushent
@amuhammadfilm
@thepublicist
For Interviews, Appearances or Media Opportunities:
Pauline Clement / Pauline Clement Public Relations
(832) 731-6712