Keeper of the Plains Band Releases Sultry Second Single
Country music single release on November 11.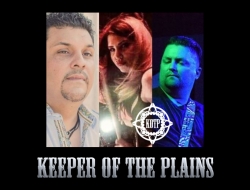 Fort Worth, TX, November 08, 2019 --(
PR.com
)-- After making his presence known to the Music Row Country Breakout Chart with his single, "Keep on Rollin'" at a well-deserved #36 and over 90,000 streams, Michael Gutierrez with Keeper of the Plains is stepping back up to the plate with a new single. "Lovin' and Lettin' Go" will be released to the Texas music scene on November 11.
Lead singer Michael Gutierrez says he "hopes 'Lovin' and Lettin' Go' will touch your soul with this tune that is sure to give us that feeling we've all felt before." He says, "Past relationships always help us to grow and become better at creating that perfect kind of love. It's always best to try and work things out instead of 'Lovin' and Lettin' Go.'"
The single is written by Gary Hannan who has had his music performed by the highest selling solo artist of all time, Garth Brooks and superstar talents Blake Shelton, Brad Paisley, Joe Nichols, Montgomery Gentry and Chris Young just to name a few. His songs have received the BMI Million-Air Award for reaching over 6 million radio airplays.
Contact
White Lightning Entertainment
Angela Gutierrez
817-557-7796

Contact