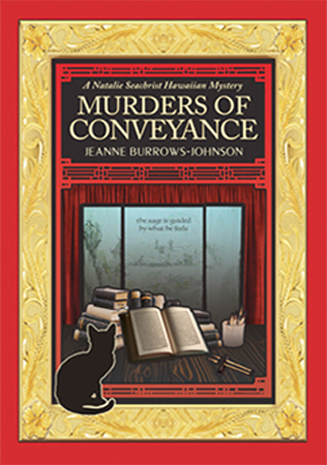 Tucson, AZ, November 18, 2019 --(
PR.com
)-- Murders of Conveyance by fiction and non-fiction author Jeanne Burrows-Johnson has awarded First Place in the category of Fiction Adventure-Drama, in the New Mexico/Arizona Book Awards. Like the other Natalie Seachrist Hawaiian Mysteries, the book has been described as a fictional travel destination series, with its emphasis on the multiculturalism, food, and rich environs of Hawai'i.
The announcement was made at the thirteenth annual awards banquet of the New Mexico Book Co-op held at the Tanoan Country Club in Albuquerque, New Mexico. With membership including more than 1,500 authors and publishers, the organization is the largest non-profit cooperative dedicated to promoting the literary diversity of books, authors and publishers in the two states.
Following Prospect for Murder and Murder on Mokulua Drive, Murders of Conveyance continues the exploration of unusual murders by semi-retired journalist Natalie Seachrist. In this adventure, Natalie and her significant other, private investigator Keoni Hewitt, are plunging into the Chinese New Year Aloha Scavenger Hunt across the island of O'ahu.
When she realizes a haunting dream is actually one of her continuing visions, they again volunteer to help Keoni's former partner, HPD's homicide detective John Dias in the investigation of two murders separated by sixty years. As Natalie's expanding visions and historical realities intermingle with discoveries by her feline companion Miss Una, links emerge between the deaths, a mysterious woman dressed in red, and a false clue hinting at a priceless figurine.
To learn more about this book or schedule an interview, contact Jeanne through her author website,
https://www.JeanneBurrows-Johnson.com
, or call her directly at 520-885-3744.