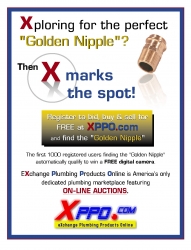 Milwaukee, WI, April 01, 2006 --(
PR.com
)-- On April 12th, eXhange Plumbing Products Online is launching a NEW buisness to buisness plumbing auction website. EXchange Plumbing Products Online, LLC (XPPO.com) was founded by two plumbing engineers with over 40 years of combined experience within the plumbing industry. David Herbert President of XPPO.com stated, "We are America's only online auction market place dedicated to the commercial and residential plumbing industry where plumbing professionals can bid, buy, and sell plumbing products."
The site was developed as an alternative to eBAY's we sell everything auction format by creating an industry specific and easy to use platform for plumbing manufacturers, manufacturer's representatives, suppliers, wholesalers and contractors to buy and sell plumbing products via online auctions. David Herbert, President of XPPO.com, also stated, "We know how hard people work at selling their goods and services on the Internet and have found that the real value of any auction site is the people who come together to buy and sell. XPPO.com will provide an auction platform that is user friendly and meant to help sellers make more profit, and buyers find an old fashioned good deal. In addition, our unique concept will greatly improve the success our buyers and sellers have sellin their products online by focusing our marketing efforts to the customer's target market, plumbing professionals."
XPPO.com's stated mission is to provide a successful online marketplace that is fast, secure and an inexpensive way to buy and sell plumbing products across the nation to others within our plumbing industry. As stated by the President of XPPO.com, "We value our customer's so whether you buy or sell 1 item a year, or 10,000, every member is important at XPPO.com."
###