Executive Board and Membership of the National Troopers Coalition Overwhelmingly Approves My Family CD Safe Kids, Adults and Pets Card ID Program
My Family CD, providers of Safe Kids, Adults and Pets Cards, is proud to announce its newest affiliate, the National Troopers Coalition. After a detailed review, the NTC overwhelmingly voted to endorse My Family CD programs.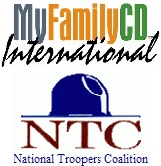 Powell, WY, March 20, 2006 --(
PR.com
)-- The National Troopers Coalition, a non profit organization which represents over 30,000 Troopers across the nation, will be partnering with My Family CD to spread the messages of prevention, proper identification and quick response. Casey Perry, Chairman of the NTC said, "In missing person cases, where time is of the essence, having proper ID with current photos is vital. Safe Cards provide the ability to view, transmit and in some case print the information from the officers vehicle. This is an invaluable tool in an emergency situation."
The NTC will also be participating in the most recent program offered by My Family CD. As a My Family CD affiliate, a portion of the proceeds will go to the NTC, (501 c 5) which will help to expand their State and National programs. Perry stated "This is a unique way to raise funds while providing vital safety tools that will assist law enforcement in their endeavor to keep our communities safe" As an affiliate, the NTC will also become a member of "The Safety Coalition", a group of safety minded organizations seeking to educate families in all areas of safety.
In a U.S. Department of Justice study dated October, 2002; over 797,500 children are reported missing each year. The implications of this study are 2-fold*; focus is needed on resources to find the missing person and implementing policies to address the broader problem. My Family CD and the National Troopers Coalition seek to bridge those gaps by creating programs and providing resources.
Families interested in supporting the National Troopers Coalition and Safe Card program can visit their website at
www.ntctroopers.org
For more information about My Family CD and affiliate opportunities, please visit
www.myfamilycd.com
or contact them at info@myfamilycd.com
*National Estimates of Missing Children: An Overview Andrea J. Sedlak, David Finkelhor, Heather Hammer, and Dana J. Schultz
###
Contact
My Family CD International
Jeremiah Hutchins
760-486-1506
www.myfamilycd.com
Casey Perry
Chairman, National Troopers Coalition (NTC)
800-232-1392
www.ntctroopers.org

Contact