San Antonio Guitarist and Smooth Instrumentalist, Mani Sierra, Signs with Loud Dust Recordings for Two Releases
Two instrumental releases, "Savant" and "Gallus", will be the Loud Dust Recordings debut of Mani Sierra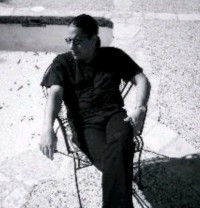 Burlington, VT, March 21, 2006 --(
PR.com
)-- Loud Dust Recordings is happy to announce the introduction of recording artist, Mani Sierra, whose spacious, aerial, nimble and illuminating guitar music will be the first and second 2006 addition to the Loud Dust Recordings catalog of instrumental releases available beginning in May. Mani Sierra, who has taught classical guitar for many years, is recognized in San Antonio, Texas as a frequent acoustic performer at area Borders stores as well as the guitarist leader of a full electric band.
Mani, who is influenced by many of the great progressive guitarist of the past decades, can still recall the days at Windsor Music when he personally met some of the key influencers on his guitar playing, for example guitar virtuoso Steve Morse. Mani Sierra has toured extensively throughout the United States performing in a diverse collection of venues, including colleges and universities, smoke filled bars, religious festivals, coffee shops, live art shows and of course his regular appearances at Captain Tony's in Key West, Florida.
Loud Dust Recordings is proud to be the first U.S. label to distribute the music of Mani Sierra nationally in the U.S. as well as throughout Europe, Australia and Japan. His music communicates the feel of the open sky of Texas and preserves the state's historical tradition as the proving ground for skillful guitarists. Loud Dust Recordings expects an April release date for "Savant" and a May release date for "Gallus". By the summer of 2006 both of MANI SIERRA's instrumental albums will be widely available through entertainment stores and brands such as iTunes, Sony Connect, Ruckus, Musicnet, Tower Records, VCast Music/Verizon Wireless, Yahoo Music, MSN Music, Musicmatch, Cdigix, Rhapsody, Real Music, Emusic, Napster, BuyMusic, Snocap, Tiscali Music, Nareos, Passalong, Xingtone and many more.
For more information on MANI SIERRA visit http://www.louddust.com and http://www.manisierra.com
###
Contact
Loud Dust Recordings
P. Shea
802-249-2081
http://www.louddust.com
PO Box 8521
Burlington, VT 05402
info@louddust.com

Contact