News Release for New Best-Selling Crime Novel, Chickenhawk
Chickenhawk is a gritty crime novel about a serial killer, cops, New York City, sex, murder, illness, madness, racism, sexism, religion, politics and vengeance.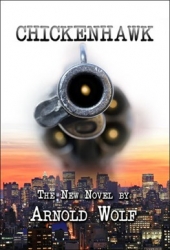 New York, NY, April 27, 2008 --(
PR.com
)-- Catching an unsuspecting Manhattan off guard, a series of gruesome killings begins drawing increased attention from both the authorities and the media. The reason: each victim is a young male Hispanic prostitute, who, prior to having his head blown off, is forced to perform fellatio, then simulate the same act on the instrument of his ultimate doom. Relying on their seasoned savvy and extensive underground contacts, Detectives Eddie Ramos and Tommy Cucitti work around the clock in order to track the killer down and prevent more bloodshed.
As the killer's body count grows higher and higher, though, the detectives begin to feel increased heat from all angles – especially considering the fact that it's an election year and the mayor's job is in jeopardy.
The case finally breaks, though, as clues begin to point toward the most
unlikely of suspects: a prominent, happily married syndicated columnist – who
also happens to be a father of two and considered to be one of the leading
authorities on morality and conservative values. What possible connection could he have to the deaths of young male prostitutes? Is it possible that he is somehow linked to what the media has begun to call the infamous "Chickenhawk" killer?
Finding out the answer to that question takes the reader on an engrossingly
entertaining thrill ride in Chickenhawk. In this impressive tome, Arnold Wolf
does a masterful job of intertwining mystery, suspense, and drama, resulting in a riveting script that, despite its 390 pages, reads incredibly fast and seems to end much too quickly. His genre-bending instant classic is teeming with the perfect assortment of witty, engaging characters, heartbreaking tragedy, and all-too familiar situations literally ripped from the pages of everyday life. With a jaundiced, pragmatic eye, Wolf combines such various elements with seamless precision, and with the refined skill of a true master he redefines the concept of a cliffhanger.
Chickenhawk (ISBN: 9781424174911, USD $24.95), is available at
Amazon.com, Barnesandnoble.com, Bookhitch.com, Froogle.com, and PublishAmerica.com. Autographed copies can be ordered directly from the author's website at Authorsden.com/arnoldwolf for only $18.95.
###
Contact
Arnold Wolf
646-256-8320
www.authorsden.com/arnoldwolf
Find out more about the author or order an autographed copy of his novel, Chickenhawk, by visiting www.authorsden.com/arnoldwolf

Contact