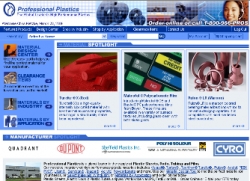 Fullerton, CA, March 24, 2006 --(
PR.com
)-- Professional Plastics has expanded it's e-commerce website (www.profesionalplastics.com) to include more than 500 different plastic materials for sale online. Plastic sheets, rods, tubing and film are offered for industrial and consumer applications. The website allows for easy online ordering, as well as, a Material Design Tool which allows engineers and designers to use performance data to select the right material for their application. With more than 500 materials online, the website is believed to be the most comprehensive material website in the plastic shapes industry.
Using a secure customer login, users can check order status, repeat previous orders, and generate new material quotations and orders, even for custom cut-to-size parts.
Materials available online include acrylic (aka plexiglass), Teflon PTFE, Rulon, UHMW, Torlon, PVDF, Vespel, Techtron, PEEK and hundreds more. According to web developer Andy Bray, "The Professional Plastics website is by far the most challenging project I have been involved in. The site contains custom built quote calculation tools and custom software architecture had to be built to accomodate the integrated design tools and massive amount of data involved."
With more that 5,000 hours of design and programming involved in the construction of the website, Professional Plastics believes that it has provided it's customers with a unique tool that will help them improve their products and services while improving efficiencies in both the customers' and Professional Plastics business model.
For more details, contact Chris Kietzke via e-mail at sales@proplas.com
###