New Book Discloses "The Other Roswell" UFO Crash
A startling new book gives eyewitness testimony from an Air Force jet aviator who chased an intensely-bright UFO across Texas and watched it crash on the U.S.-Mexico border. Best-selling author Bruce Maccabee writes in the foreword, "I believe that the reader will find this book important support for the idea that Alien Flying Craft have crashed on earth and have been retrieved and covered up by the United States Government."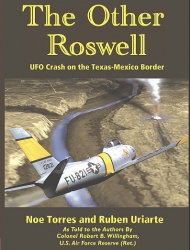 Wichita Falls, TX, May 09, 2008 --(
PR.com
)-- A retired U.S. Air Force colonel and former fighter jet pilot says that he chased a UFO across West Texas and watched it crash along the Rio Grande River near Del Rio, Texas. Shortly after, he visited the crash site and saw a metallic object unlike any aircraft he had ever seen "sticking into the side of a hill." Decorated World War II and Korean War veteran Robert B. Willingham, 82, discloses his strange 1955 encounter in a new book titled "The Other Roswell: UFO Crash on the Texas-Mexico border," written by UFO researchers Noe Torres and Ruben Uriarte. The book is available on Amazon.com and at the publisher's Web site, roswellbooks.com.
"It's one of the most amazing UFO stories I have ever heard," said Uriarte, a 25-year veteran UFO investigator and director of the Mutual UFO Network (MUFON) in Northern California. "Rarely do you have such a highly credible eyewitness to an event of this magnitude come forward with information that is guarded so closely by various intelligence agencies."
Willingham, who lives near Wichita Falls, was one of America's earliest jet aviators, during the time when the military was transitioning away from propeller-driven planes. It was also a time when UFO sightings had become commonplace throughout the United States, especially in and around top-secret military bases.
"He was flying as part of a group of F-86 fighter jets that were escorting a B-47 bomber across West Texas," said Noe Torres, a lecturer, researcher, and member of the MUFON chapter in Texas. "It was a Cold War simulation designed to follow the route that bombers would take to reach Russia in the event of a nuclear war."
A radio message warned Willingham and the others about a fast-moving UFO that was approaching Texas from the northwestern U.S. "Suddenly it came into their view, looking like an intensely bright light – like a bright star seen through a telescope," Torres said. "It blazed across the sky past them, and everyone in all the planes saw it. But, because of the location of Willingham's jet, he was in the best position to see what happened after the object flew by."
Willingham estimated that the object was traveling at 2,000 miles per hour, and he saw it make a sudden 90-degree turn, without slowing down. As the UFO streaked toward the Texas-Mexico border, Willingham received permission to break from the formation and pursue the object in his F-86 fighter. Following the object's vapor trail, Willingham followed it down to near Del Rio, Texas, where he saw it suddenly begin to wobble and descend rapidly.
As the pilot watched in stunned silence, the UFO plunged toward the Rio Grande River, plowing into the ground just south of Langtry, Texas and digging out a 300-yard long furrow before finally coming to rest alongside a sandy hill. Uriarte said, "Willingham had heard a lot of discussion about UFOs, and now suddenly, he had one down on the ground. As he flew over the awesome scene, he decided that he was going to switch planes and return there as quickly as possibly to look at the thing up close."
The aviator returned to the scene of the crash a few hours later, according to Uriarte. "They landed the small plane right alongside the crashed UFO and noticed that a large number of Mexican soldiers had already taken control of the crash site. They had cordoned off the area and would not allow Willingham or Perkins to approach the main part of the wreckage. However, what they were able to see and look at was so amazing that it forever changed their lives."
Before being forced to leave the area by the Mexican military, Willingham picked up a chunk of strange metal debris that was about the size of a man's hand. He later tried to burn it, cut it, and otherwise deform it, but he was not able to. "It was a piece of something not of this world," Uriarte said.
Torres and Uriarte are active members of the UFO research community with many years of experience investigating UFO cases in the Southwestern U.S. and Northern Mexico. Their research has appeared on the History Channel's UFO Hunters and UFO Files TV shows. Their first book, Mexico's Roswell: The Chihuahua UFO Crash, published in 2007, received wide critical acclaim and was the basis for a February 2008 episode of UFO Hunters, in which the authors appeared. The authors have appeared frequently on UFO-related TV and radio shows and have spoken at many conferences and events.
###
Contact
RoswellBooks.com
Noe Torres
956-802-3096
www.roswellbooks.com
Also contact Ruben Uriarte, rubenuriarte@sbcglobal.net,
510-489-3686.

Contact