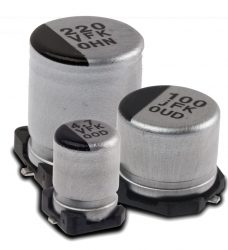 New Bedford, MA, May 15, 2008 --(
PR.com
)-- Cornell Dubilier announces six new series of aluminum electrolytic vertical chip SMT capacitors targeted for a broad spectrum of applications in filtering, bypassing and power supply decoupling. "What differentiates these series from other SMT aluminum capacitors is their winning combination of performance and pricing needed in today's marketplace" says Terri Medeiros, SMT Product Manager for Cornell Dubilier.
Type AVE (85°C) is a general purpose type with up to 2000 hrs of load life. Types AVRF, AVES, AVEK, AVEZ , AVGA are all rated for operation at 105°C with each series offering unique benefits ranging from the ultralow impedance type AVRF with a 5000 Hr load life to the high voltage AVGA series with ratings up to 450 Vdc. OEM pricing starts at $17 per 1Kpcs. Parts are available from stock to 10 weeks after receipt of order. Full specifications are available at http://www.cde.com/catalog/smt/. For technical support contact Robert Sevigny, at 508-996-8561, Ext. 128, RSevigny@cde.com.
About Cornell Dubilier - Cornell Dubilier is a leading capacitor manufacturer with facilities in New Bedford MA, Liberty SC, Mexicali Mexico and Shenzhen China. Dedicated to being the source for capacitors that transform applications to success stories, it excels with aluminum electrolytic, mica, motor run, HID, and AC and DC plastic film capacitors. The world leaders in welders, UPS systems, motors, drives, avionics, power and military electronics and medical lasers are prominently among its more than 35,000 customers. Its principal market is power electronics.
###