Spend Matters Names ProcurePort a Solution Leader in the Spring 2022 Procurement Technology SolutionMap Rankings
ProcurePort was named a Solution Leader in the e-Sourcing and Supplier Management Category in Spend Matters' Spring 2022 SolutionMap, where it competed with 67 other procurement technology providers. Spend Matters reaches a global audience of procurement professionals and provides coverage of procurement software and services vendors across the source-to-pay spectrum.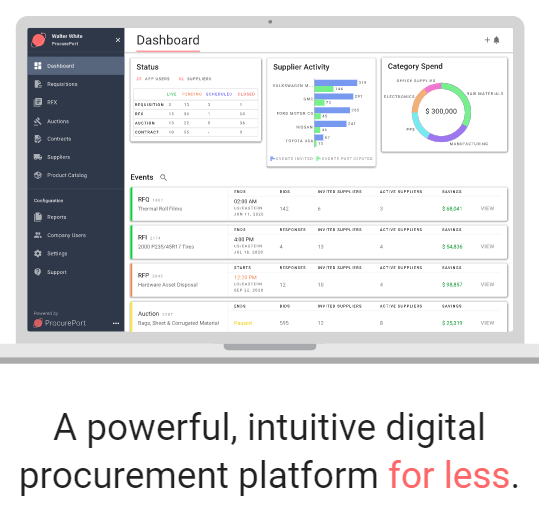 Indianapolis, IN, June 08, 2022 --(
PR.com
)-- ProcurePort has been named a "Solution Leader in Sourcing and Supplier Management" by Spend Matters' Spring 2022 SolutionMap, based on solution-specific scalability, client count, worldwide customer reach, full-time staff, and revenue per customer. This recognition comes after the successful completion of a SOC 2® Type II Certificate of its eProcurement software application and highlights the climb of ProcurePort in the Procurement Software space.
"It has been a long journey, but ProcurePort continues to shine among its competitors in the eProcurement Software space. Being recognized as a solution leader by Spend Matters analysts further provides us with the confidence that we are innovating in the right direction," said Jemin Patel, Director - ProcurePort.
The data-centric functionality assessment performed by Spend Matters is a thorough examination of procurement technology vendors. SolutionMap rates solution providers based on an equal mix of analyst and customer rating inputs and includes 500+ RFI requirements across 10 S2P modules and suite technology categories. Every six months, SolutionMap is updated and published to reflect market developments.
About ProcurePort
ProcurePort is a leader in providing on-demand procurement software (Requisition Software / Reverse Auction software / Spend Analysis software / RFQ & RFP software / P.O & Invoice Automation / Payments Automation / Spend Analysis Software / Contract Management Software) and services (Reverse Auction services / Spend Analysis services) for startup companies as well as Global 1000 organizations. Operating in a wide range of industries from manufacturing to government, ProcurePort's clients benefit from both the technology and service expertise that can help them automate their procurement processes without time-consuming or expensive technology deployment. ProcurePort's affordability enables startups to compete with larger organizations and reach new levels of success in deploying an E-Marketplace in a specific vertical. For more information, visit
https://www.ProcurePort.com
or call 1.866.643.8153 (toll-free in North America).
Contact
ProcurePort
Sylwia Duleba
866-643-8153
www.procureport.com

Contact
Multimedia
Automate your entire Source to Pay procurement process with the use of ProcurePort. Automate all the way from requisitions, RFQ, P.O, Invoice, Receiving and Payments. Conduct Spend Analysis on all your spend data.