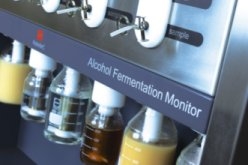 Nashville, TN, June 02, 2008 --(
PR.com
)-- The AFM embodies the ideal screening machine for industrial and academic research on (GM) yeast, potable alcohol and bioethanol.
Easy to operate
Quick results
Accurate measurements
Official launch & press release
HaloteC Instruments will officially launch its new generation Alcohol Fermentation Monitor at the 24th Annual International Fuel Ethanol Workshop Expo, which is held June 16-19 2008 at the Gaylord Opryland Resort & Convention Center in Nashville, Tennessee. The press release concerning the official launch will be sent out around June 9th. The new AFM digital brochure, film footage and web page will also be available then.
User quotes available now.
A number of AFM users at renowned companies involved in first and second generation yeast research have expressed their positive experience. Quotes - and supporting photos - are available now.
Prof. Hans van Dijken, Ph.D.
"The AFM is of special interest for any process involving ethanol production" –
Hans van Dijken, Professor Industrial Biotechnology Delft University of Technology
Satisfied AFM Users
- "The AFM embodies the missing link between shake flask experiments and large scale fermentations" – Tom Elink Schuurman, B.Sc., Scientist Bird Engineering
- "…For studying enzymes and micro organisms for development of the biomass to ethanol process" – Frank Laumen, M.Sc., Senior Scientist DSM White Biotechnology
- "The AFM has become one of the most important QA tools in our laboratory" –San Feng Maltha, Scientist Royal Nedalco
- "The AFM is really being used 24/7 in the design of Iogen's new cellulosic ethanol plant" – Jan-Maarten Geertman, Ph.D., Staff Scientist, Iogen Corporation
For more information, please contact:
Emo van Halsema, M.Sc.- Founder & CEO
Telephone +31 621 870 111 - Email emo.van.halsema@halotec.com
###