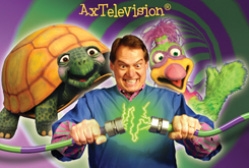 Newport Beach, CA, April 16, 2006 --(
PR.com
)-- The Newport Beach Film Festival will feature a new kidshow "AxTelevision". This wacky behind-the-scenes show takes a group of kids into the strange workshop of puppet creature designer Steve Axtell and his crew. Together they go through the process of writing, making puppets & sets, creating music, computer animation, special effects and end up making the short film, "Come Outta that Shell". When the process is finished the kids and the crew sit down together with popcorn to watch the finished movie. The 41-minute film shows both the process and the final short movie. The creative process is explored in a funny way as puppets on the shelves like Munch and Figgy (a head on a stand) join in the fun as they secretly watch the crew at work.
The program has won multiple awards including the Parent's Choice Award, and has attracted the attention of many children and families world-wide. Some have even flown in to visit Steve in person at the Ventura, CA workshop and studio.
On Sunday April 23rd at 11:00 am, Steve Axtell and crew will present the world theater premier of "AxTelevision" at the Edwards Island - Nestle Theater in Newport Beach, California as part of the famous annual film festival. Tickets are $5 for children and $10 for adults.
More information at www.axtelevision.com
Contact
Kathy Snelson
Axtell Entertainment
2889 Bunsen Ave H
Ventura, CA 93003
Tel (805) 650-2131
Fax (805) 650-2139
Email - ksnelson@axtell.com
###