For All of You Pet Owners and Animal Lovers
A new Unique Animal Boutique is now opened to the public featuring, Gemma Gylling's wonderful animal art along with many other animal artists.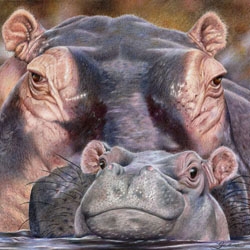 Discovery Bay, CA, April 23, 2006 --(
PR.com
)-- Towards the end of March, 2006 a new and exciting business was opened to the public. The uniqueanimalboutique.com has been published and presents a wonderful sense of bringing your favorite pet to life. It will enable any person the ability to show how much they care about their pets, in their lives, affordably. Animal gifts, art, jewelry, clocks and apparel, all can be purchased at a significant discount as compared to other sites of this nature.
The feature artist on uniqueanimalboutique.com is also one of the owners and creator of the site, her name is Gemma Gylling. The medium Gemma uses to create her wonderful Animal Art is Colored Pencils. Her method is applying several layers of color, using the colored pencil. The result simulates the look of an oil or acrylic painting. When people see her work they almost always say, "I can't believe this is done with colored pencils". Gemma is known for her attention to detail and her skill with the colored pencils.
Gemma and her husband decided it would be fun to sell many other unique animal art gift items, with that being said, they came up with the idea of "The Unique Animal Boutique". They contacted several other artisans and voila this site was born. Gemma and Bill hope you will enjoy all of the very unique and fun animal art gift items available here on the site. Gemma and Bill plan on continually adding new items to the site, be sure to check back frequently because the site is continually evolving.
###
Contact
GlassGems
Gemma Gylling
925-513-1579
www.uniqueanimalboutique.com

Contact