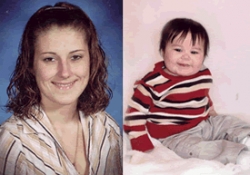 Springfield, IL, April 23, 2006 --(
PR.com
)-- An Amber Alert has been issued by the Virginia State Police Department on behalf of the Danville, Virginia Police Department. The Danville Police Department is looking for Xavion Ishiah Cisneros-Goodwin and Briana Lynn Goodwin, the baby's mother.
Both are believed to be in extreme danger and were last seen at 224 Beavers Mill Road in Danville.
Police think they are with 22-year-old Ignacio Rizea Cisneros. He was last seen wearing a dark blue button-up shirt and jeans.
They may be traveling in a 1998 red Chevy Tahoe with the license plate JVA-7986. The state on the plates is unknown at this time. Authorities say Briana Godwin was last seen with a female companion at 11:00 p.m. on Saturday April 22. The vehicle that Ms. Godwin was riding in was sideswiped by a 1998 Tahoe.
For more details visit www.projectsafekids.org
The abductor then removed the 7-month-old infant, Xavion Ciseneros-Godwin and the mother, Briana Godwin, from the vehicle by force and made threats to harm both the mother and infant. If you have any information regarding this incident, please call the Danville Police Department at 434-799-6510 or the Virginia State Police at 1-800-822-4453.
###