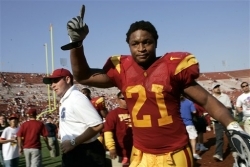 Los Angeles, CA, April 27, 2006 --(
PR.com
)-- USC's Running back LenDale White, and Tight End Dominique Byrd are hosting the Annual 2006 NFL Draft Celebration in conjunction with Nationwide Sports on Monday, May 1st starting at 9pm. This year's celebration will be held at Pearl Night Club located at 665 North Robertson Blvd. West Hollywood, CA 90069 from 9:00 p.m. to 2 a.m.
The upscale NFL Draft Celebration will feature draft highlights on two large television projection screens. Media from various outlets will be on hand to provide coverage and analysis on the red carpet and throughout the evening as well.
Both men have many accomplishments to celebrate. White has played at an all-time high during his three years at USC and has scored 57 touchdowns in those three seasons. Many say he is the best power back in the country. Additionally, Byrd is renowned as one of the best tight ends in the game, earning him an All-American candidacy. Each player will be available for a question-and-answer session on the red carpet as well as photography opportunities.
Derrick Hazely, Chief Executive Officer and Co-Founder of Nationwide Sports & Education Foundation, has proudly announced that White and Byrd will sit on the Executive board of the Nationwide Sports & Education Foundation. The foundation has recently completed the 6th annual All-Star Classic Basketball Game in which the most talented High School athletes compete and are mentored by professional athletes.
In celebration of the NFL draft, confirmed guests and attendees include Reggie Bush (Heisman Trophy winner, USC Running Back), Snoop Dogg (Platinum Recording Artist) and many other NFL Draft picks and celebrities.
To RSVP for Red Carpet and Media Inquires please contact Laura Wright at (818) 251-6611 or PR@avidexposure.com.
###