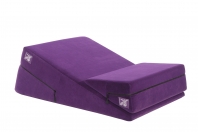 Liberator (Bedroom Adventure Gear) is the blue planet's very first Love Style Brand - An entirely new product category with the power to extend and intensify the life of love. Liberator Shapes is manufactured by OneUp Innovations. It is a complete line of purpose-driven pillow specifically designed to enhance life in the bedroom.

Founded by two couples, OneUp Innovations is a private company and a very unique workplace. We are on a fun - but important - mission: to improve the love lives of millions of people.

At OneUp, we have fun because our products are fun, but we also take our work very seriously. Our standards are high, our science is accurate and our testing very thorough. (Well, okay, the testing is fun, too.)

We support diversity in the workplace and will never discriminate against someone on the basis of race, religion, creed, sexual orientation, age or weight.
Status

Private Company

Founded

2001

# Employees

150