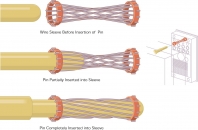 Hypertronics is a world leading provider of high performance Interconnect solutions for the most demanding applications. Founded in 1970, Hypertronics is a member of Smiths Group (UK: SMIN), a multinational company headquartered in London, UK.

Hypertronics designs, manufactures and distributes specialty connectors and connector solutions for the electronics industry. All Hypertronics' products are built upon our patented Hypertac® Contact design, which outperforms all other interconnect contact solutions in terms of reliability, low contact forces and value. Providing customers with the highest degree of support from engineering, manufacturing and customer service, we have established ourselves as the premium source for specialty connector solutions in the industry's most demanding markets such as: medical, industrial, test and measurement, military and aerospace. (top)

Product Offerings
Hypertronics products provide various levels of electrical interconnect within a system. From board level through complete system interconnection, Hypertronics offers products and custom solutions to fit an entire electronic system. Standard connector products include: Arinc, circular, printed circuit board, rack & panel / modular, docking station, and discrete contacts.

Hypertronics also offers a variety of interconnect solutions, including custom design and engineering services, cable assemblies, and expert applications support for products that demand the highest reliability. (top)

Hypertac® Technology
Hypertac® (HYPERboloid conTACt) is a design that reaches unrivaled performance levels. Hypertac contacts feature a hyperboloid-shaped basket of individual spring wires that provide up to 100,000 mating cycles, nearly half the resistance of conventional contact designs, immunity to shock and vibration, extremely low insertion/extraction forces, and 360-degree wiping action. This advanced technology is incorporated into all of Hypertronics' connector solutions. (top)

Markets and Applications
Hypertronics focuses on a set of core markets that require high reliability interconnects and specialty products. In most cases, high mating cycles and immunity to shock and vibration are essential design considerations. These markets include: Military and Aerospace, Medical, Industrial, and Test & Measurement.

Military and Aerospace markets are divided into land, naval and aerospace systems. These include critical applications such as communications and information systems, sensors and electronics, weapons, ground/sea systems, air platforms and missile defense. Hypertronics' specialty connectors deliver reliability and efficiency to military test equipment, airplanes, off-road vehicles, and other vital systems.

Medical Equipment, such as electronic catheters, therapeutic devices, patient monitors, scanners and lab equipment demand unfailing connectivity and precise signal transmission in potential life or death situations.

Industrial, Test & Measurement markets comprise the most diverse category. In applications where frequent connector replacements would slow down productivity, Hypertronics provides superior value to customers through low cost of ownership and reliability assurance. Industrial applications include portable data collection devices, oil equipment for exploration and drilling, data acquisition systems, robotics and motor controls, semiconductor equipment, heavy machinery equipment, test and measurement devices, rail coupling devices, and many more.
Status

Private Company

Founded

1975