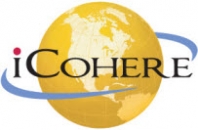 iCohere began as The Kaplan Consulting Group (KCG) in 1988. Founded by Pascal Kaplan, Ph.D., former Dean of the School of Liberal Arts at John F. Kennedy University, KCG started by developing custom, enterprise-wide applications for a variety of small and large organizations including SBC Communications, Bank of America and the State of California.
In 2000, Pascal teamed up with his son Soren Kaplan, then Manager of Hewlett-Packard's Internal Strategy and Organizational Development Consulting Group, to explore ways to bridge KCG's online application work with Soren's organizational development work. The two Kaplans envisioned professional online communities where people could come together to share ideas, knowledge and strategies to build and learn from each other.
Drawing on their backgrounds in education, technology and organizational development, Pascal and Soren set out to build a secure and flexible online community platform with a set of features designed to promote engaged online activity that would be inherently beneficial to users.
Beyond the platform, they saw an opportunity to create an approach closely tied to their experiences in education, group dynamics and knowledge management. They envisioned a company that was about more than simply selling software. They saw a company that works hand-in-hand with its clients to discover innovative ways to use online communities to meet educational goals and to provide benefit to members, stakeholders and staff. With those principles in mind, iCohere was launched in 2001.
Since then, iCohere has built hundreds of online communities for large and small organizations including associations, government agencies, non-profits and corporations. Most importantly, we are still committed to our founding principles.