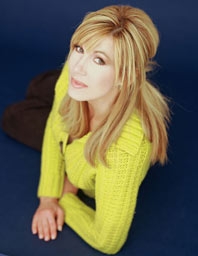 Every time Hollywood thinks they've figured her out, she cleverly moves another step up the ladder and successfully places another title among her many achievements. It's Leeza Gibbons' passion and drive combined with her warmth and wisdom that has enabled her to become one of the most respected and recognized professionals in the broadcast industry.

From television news journalist and host, to radio personality, producer and businesswoman, Gibbons has been entering America's living rooms for over 20 years. She was recently named the host of Lifetime's successful primetime magazine, "What Should You Do?", a dramatic reality series offering empowering, life-saving information about moments of crisis. This is just another outlet for Gibbons' brand of offering programs and products that enhance the lives of women and their families.

It was a need to serve her own family that prompted Gibbons to leave her daily post as managing editor and host of the newsmagazine "Extra" in order to form the Leeza Gibbons Memory Foundation (a 501c3, non-profit) - her most personal endeavor to date. "I promised my mother I would take her diagnosis of Alzheimer's disease and use it to educate and inspire. We're doing that through Leeza's Place, intimate settings in cities across the country where the newly diagnosed with any memory disorder and their caregivers can get education, empowerment and energy as they prepare for the journey ahead." As she watched the fog roll in on her mother's life, Gibbons saw memories being stolen by the "thief known as Alzheimer's" and she became consumed with preserving the moments that matter and capturing traditions in her family. Available summer '04, her scrapbooking line: Leeza Gibbons "Legacies" provides a system for preserving memories and encourages women to tell the stories of their lives.

Believing that women should "know where they're going and look good when they get there," Gibbons has offered Sheer Cover to the marketplace, a mineral based powder that covers everything from rosacia and acne to scarring and pregnancy mask. "It allows women to really show up for their lives and helps them get perfect skin in an instant" Gibbons said of the Guthy Renker product. "I love that through Sheer Cover, I'm hearing powerful stories of sheer courage and sheer determination - that transformative energy is powerful."

Gibbons is committed to informing viewers on everything from entertainment news to the trends shaping American culture today. Her hosting duties on two installments of the live Fox TV show "Test The Nation" The National I.Q. Test" and the pop culture hit, "The Simple Life Reunion" (Fox), reminded viewers of Leeza's easy going professionalism in front of the camera, skillfully providing an entertaining environment with disarming interviews.

While she would nationally burst on the scene as an anchor/reporter on "Entertainment Tonight," it wouldn't be until hosting her own daytime talker, "Leeza," that audiences would see Gibbons' determination to get outside of the box and become a household name while highlighting her intelligence, sensitivity and compassion. Gibbons served as Executive Producer of "Leeza," which debuted on NBC in 1994 and continued nationally through 2000. Receiving nominations for both Outstanding Talk Show and Outstanding Talk Show host every year it was eligible, "Leeza" would garner 27 Daytime Emmy Nominations, winning three. It was during the series run that Gibbons' impact on television would be awarded with one of Hollywood's highest honors: a star on the Hollywood Walk of Fame.

With her never-ending entrepreneurial creativity and a mind for business-building, Gibbons formed Leeza Gibbons Enterprises (LGE) in 1994, to develop and produce the kind of projects that reflect her interests and concerns. This endeavor would have LGE form groundbreaking relationships co-producing and developing TV programs with several outlets. Televised projects produced by or in association with LGE and Leeza include a CBS special with Iwon.com, E!'s "Assignment E! with Leeza Gibbons," the highest rated non-news series in the channel's history, and the Emmy-winning "Teen Files," (UPN) focusing on tough teen issues and later being used in school curriculums. It was her desire to mentor young people that led LGE to its recent project - "The Michael Essany Show" on E! Gibbons met Michael when he was 14... five years later she was executing producing his show.

Taking her show-biz insight to the radio airwaves, Gibbons hosts the nationally syndicated radio program, "Hollywood Confidential," which is featured on over 125 radio stations across the country.

Gibbons has always been dedicated to lending her emotional and financial resources to various charities, which focus on her commitment to youth through strengthening the family bond, as well as health issues facing America today. She is proud to be the national Spokesperson for Kids Peace, a celebrity ambassador for ChildHelp USA and board member of Marc Kass' Beyond Missing. no stranger to Capital hill, Gibbons has testified before Congress and is most proud to have received the Congressional Horizon Award for her crusade on children's issues. Additionally, Gibbons has been recognized for her humanitarianism by various foundations focusing on AIDS and Alzheimer's research, racial harmony and children's illnesses.

A South Carolina native, Gibbons found herself in the national spotlight on "Entertainment Tonight," following a co-hosting gig on WCBS-TV's "Two On The Town," in New York. Earlier she hosted "PM Magazine" programs in Dallas and Beaumont, Texas and served as reporter/anchor in Spartanburg, South Carolina and NPR in Columbia, South Carolina.

In addition to being a member of the Women in Film, Gibbons is also a member of Sigma Delta Chi and American Women in Radio and Television. She is also an active participant in The Leading Women Entrepreneurs of the World as well as a member of the prestigious LA Forum.

Gibbons leads a life of gratitude and while thrilled with all of her many professional accomplishments, she is most proud of her own family life. Married to architect/actor Stephen Meadows, they have three children: daughter Lexi (14), and sons Troy (12) and Nathan (6).
Status

Private Company