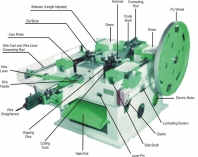 We would like to introduce as the pioneer manufacturers and exporters of NAILS MAKING MACHINERY, BOLTS MAKING MACHINERY, BARBED WIRE MACHINE,FENCING WIRE, LOWA BARBED WIRE MAKING MACHINE, WIRE DRAWING MACHINE, PAPER PINS MAKING MACHINE, GEM CLIPS MAKING MACHINE, STAPPLE PINS MAKING MACHINE , SHOE TACKS MAKING MACHINE, HORSE/ BULLOCK NAILS MAKING MACHINE,CONCRETE MIXER, WOOD/ MACHINE SCREWS MAKING MACHINERY, WIRE STRAIHTENING AND CUTTING OFF MACHINE, U- NAILS MAKING MACHINE,FENCING STAPPLES MAKING MACHINE, ROOFING NAILS /ROOFING BOLTS/ROOFING SHEETS MAKING MACHINE,SHUTTER MAKING MACHINE,CANDLE MAKING MACHINE,SHEARING MACHINE,FLOUR MAKING MACHINE, U-BOLT BENDING MACHINE,FLY PRESS, POWER PRESSES and variour kind of HORSESHOE NAILS based in AMRITSAR in INDIA
Our machines and plants are installed at home and abroad have acclaimed a very high name for the smooth and sturdy running, best workmanship since we use malleable graded casting, Bronze bushes, high class steel and are manufactured under the strict instructions of our qualified technical staff.
We hade already exported our machines to South Africa, Middle East (Iraq, Oman, Egypt, U.A.E), Africa (Gambia, Botswana, Ethiopia, Kenya, Malawi, Nigeria, Tanzania, Uganda, Zambia, Zimbabwe), Afghanistan, Australia, Bangladesh, Brazil, China,Ecuador, Nepal, Sri lanka.
You can visit our product catalogue on www dot premindcorp dot com
WITH REGARDS
For PREM INDUSTRIAL CORPORATION
AMRIK SINGH BUMRA / KABAL SINGH BUMRA
(SALES EXECUTIVE- EXPORT DIVISION)
Website: - www dot premindcorp dot com
E-mail:- sales at premindcorp dot com , premindustrial_amrik at yahoo dot com
Phone Office:- 00-91-183-5051934.
Fax Office :- 00-91-183-5051934
Mobile:- 0091-9814155342(Mr. Amrik Singh Bumra)
0091-9872070004 (Mr. Kabal Singh Bumra)
0091-9888800692 (Mr. Gurinder Singh Bumra)