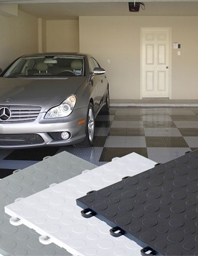 ModuTile is a U.S. manufacturer of modular interlocking floor tiles for garage flooring, basement flooring, deck and patio flooring, and other portable flooring solutions. To date, ModuTile has produced and sold over 5 million square feet of modular interlocking flooring.

In the past, ModuTile imported its products from overseas. However, the firm's operations transitioned to the U.S. in 2010. The new U.S. team successfully entered the basement flooring market in 2011 after researching the issues associated with the existing basement floor options currently on the market.

Manufacturing in the U.S. means that we oversee the quality of our products more effectively and reduce production time. The consumers enjoy the benefits of higher quality standards, faster shipping time, and more color options. All interlocking floor tiles are produced in and shipped from Houston, Texas. Therefore, the average customer order can be shipped to anywhere in the continental U.S. within 3 to 6 business days. We also fulfill international wholesale orders by the container.

ModuTile interlocking flooring is made of high-impact polymer so it is strong and durable. The tiles are available in a variety of appealing colors and styles, so they can be used to turn any unsightly floor into an attractive yet very practical focal point whether the space is used for working, sales purposes, enjoying with friends and family. ModuTile customers are not limited to monochromatic floors. They can use multiple colors of tiles combined for creating designs like checkerboards, stripes, borders, and more.

The tiles provide a cost-effective do-it-yourself flooring solution because they install easily without the use of special tools or adhesives. No surface preparation is required other than sweeping the floor clean and then interlocking the tiles together by hand. These interlocking tiles can withstand heavy foot traffic and the weight of heavy furniture or equipment. However, if necessary, individual tiles or sections can be replaced without having to redo the entire floor.

ModuTile has recently begun to offer blue, beige and gray carpet interlocking tiles that offer all of the strength and durability of our original garage flooring. The carpet tiles are perfect for use in basements, trade shows, or in an office.

ModuTile has a history of developing flooring that is smart, attractive and affordable. The basement floor tiles have been sought after for trade show flooring because the characteristics that make them ideal for basements are also valuable for trade shows and conventions. They are durable and portable enough to be reused year after year and assembled and disassembled quickly.

ModuTile is a privately held company based in Houston, Texas. For further information about other ModuTile flooring solutions, you may call us at 1-713-663-6060 or visit our website at http://www.modutile.com/.
Status

Private Company

Founded

2005