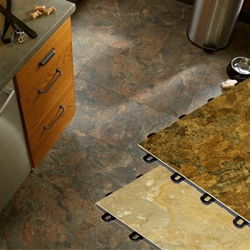 Houston, TX, July 31, 2011 --(
PR.com
)-- ModuTile, one of the leading manufacturers of interlocking, modular flooring, announces the immediate availability of designer basement flooring. ModuTile
basement floor tiles
are specially designed for use in damp or humid spaces and offer a wide range of practical decorating possibilities.
The idea to develop basement flooring was conceived and carried out by ModuTile's U.S. manufacturing team. Since ModuTile no longer manufactures in China, its U.S. manufacturing team was assembled in November 2010. The new U.S. team has successfully entered the basement flooring market after researching the issues associated with the existing basement floor options currently on the market. Typical problems with basement floors include negative effects due to humidity and lack of sufficient ventilation.
ModuTile's basement flooring consists of durable interlocking tiles that by designed with gaps between the tiles to allow vapor to escape from below the tiles and evaporate into the air. Marvin Solano, President of ModuTile, says that the American manufacturing team truly understands the expectations of their customers and has worked relentlessly to offer properly designed
basement flooring options
.
The basement tiles are available in interlocking carpet and slate laminate interlocking flooring. The carpet tiles are available in blue, gray, and beige. The slate laminate is available in Dark Canyon and Natural Canyon. The tiles can normally be installed in a typical basement within one day after everything has been removed from the basement. The installation is very quick because there are no special tools or skills required. If cutting is necessary, it can be done with a jigsaw.
ModuTile has a history of developing flooring that is smart, attractive and affordable. The basement floor tiles have been sought after for trade show flooring because the characteristics that make them ideal for basements are also valuable for trade shows and conventions. They are durable and portable enough to be reused year after year and assembled and disassembled quickly.
ModuTile is a privately held company based in Houston, Texas. For further information, you may contact Marvin Solano at 1-713-663-6060 or visit the website at
http://www.modutile.com
.
###