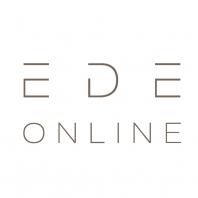 ABOUT EDE ONLINE

EDE ONLINE (www.eat-drink-etc.com) is a peerless global gateway to high-end food, beverage and cigar information and resources. It is a showcase of international brands and products; a union of the commercial and creative. Intelligent, relevant content meets minimalist, artful design. A modern portal for expert opinions and recommendations. EDE ONLINE'S information is channeled directly from its sources. Respected, eminent insights are made personal. Processes laid bare. Trends predicted. Facts compiled. From the makers and creators, to industry professionals, students and keen consumers, EDE ONLINE'S audience shares a common passion. A desire to experience, taste, share and learn.

EDE ONLINE is an international website with regional divisions in Africa, Asia, Australia, Europe, North America, South America and the Middle East.
For further information or press inquiries please contact the managing editor Amy Morison: amy@eat-drink-etc.com, www.eat-drink-etc.com
Status

Private Company
Company History
EDE ONLINE - which is an abbreviation of EAT/DRINK/ETC was born out of the idea that the more one learns about a food and beverage brand or product, the more enjoyable the experience. It is the passion for knowledge beyond taste.
As summarized in the tagline, EDE ONLINE takes its audience: Inside the name, behind the label, beyond the brand.

Unlike existing food, beverage (F&B) or hotelier websites, www.eat-drink-etc.com is an interactive one-stop platform for F&B related information and resources. It is unique in that the same people contributing to the site are also its audience. The website is aimed at professionals – from chefs, makers, creators and executive level decision makers within the industry to hospitality students – as well as passionate consumers.
The designer interface of EDE ONLINE appeals to a modern readership that is passionate about the F&B lifestyle and culture. Topics range from product and brand showcases to features, trends, travel, personality profiles, art, media, education and events.
Founded by Cyrille Stegmann in 2009, EDE ONLINE is a division of EDE INTERNATIONAL and its headquarters are in Hong Kong.