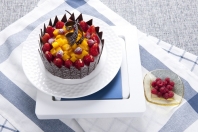 At VIDACASA freshness is what we are dedicated to. Freshness goes beyond the ingredients used, freshness involves serving food at the ideal temperature, not too hot and not too cold, just right.
VIDACASA has built its reputation as a cold food display system that can keep food at 39°F up to 6 hours, no ice, mess, or electricity required. Now with the release of the iTherm Hot Cell™, VIDACASA™ diningware can be used interchangeably for both hot and cold. This reusable, cost-effective solution ensures chefs have the flexibility to deliver food at the ideal temperature, no matter the cuisine.
Utilizing iThermo™ technology VIDACASA's innovative food displays provide consistent food temperature of 39.2°F (4°C) up to 6 Hours, or high temperatures of up to 230°F (110°C) for 4 hours wirelessly, keeping food looking great and tasting even better.
The days of wasting time, money, and man power to constantly monitor sternos and ice are a thing of the past. VIDACASA's iThermo™ technology offers a seamless, display hidden under the plates that keeps food at consistent hot or cold temperatures without the conjunction of wires, danger of open flames, or the tedious task of constantly changing ice.
For more information on how your plates can keep the heat, or beat it, please visit our website www.VIDACASA.com and view our online catalog. The way culinary artists present and preserve food is evolving, we invite you to join the revolution.