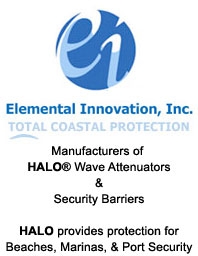 A leading engineering firm, Elemental Innovation, Inc. provides proven coastal protection through the ecofriendly, tunable HALO® wave attenuator. By absorbing rather than deflecting the force of waves, HALO eliminates 80% of a wave's height to protect beaches and marinas. HALO® PORT SECURITY Barriers protect facilities from a terrorist act such as a boat strike, or covert underwater incursion by divers. By forming an impenatrable security fence, HALO® PORT SECURITY Barriers make certain that intruders cannot enter protected areas.

For added protection, HALO® PORT SECURITY Barriers can be configured with a multitude of technologies including, reinforced steel cables, light sensors, motion sensors, warning signs, surface detection units, antiintrusion instruments, swimmer detection devices and automated capture nets both on the surface and underwater.
Status

Private Company

Founded

2000
Company History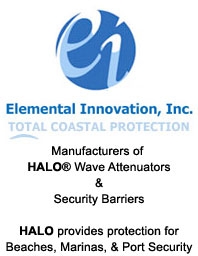 Before founding our company in 2000, Justin and Robert Bishop designed the WhisprWave® wave attenuator, which has been successfully deployed in Lake Ontario, at the Naval Amphibious Base in Norfolk, Virginia, and in the Thames River in Connecticut.

After selling the WhisperWave business, they developed more advanced technology, utilizing a radical new approach to wave attenuation — HALO was born. While the WhisprWave can reduce a wave's height, it could acheive only 40% attenuation, and then only for waves with short wavelengths (up to 5 seconds.) HALO is able to double the WhisprWave's performance, achieving an unprecedented 80% attenuation and can extend that protection to waves greatly exceeding 5 second periods, up to 10 seconds and beyond!

Shortly before Robert retired in early 2003, Elemental Innovation completed laboratory testing proving the success of the HALO wave attenuator.

Since beginning HALO deployments in early 2004, Elemental Innovation has set about re-writing the rules for wave protection.